TCNA By The Book: Membranes in Steam Shower/Steam Room Application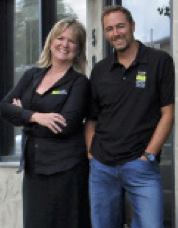 Dan and Elizabeth Lambert of Lambert Tile and Stone, located in the Vail Valley of Colorado, have been providing high-end residential tile installations since 2000.
At Lambert Tile and Stone we install around 30 residential steam showers per year in the mountains of Vail, Colo. Thanks to technology, our steam showers and steam rooms have evolved over the past number of years with better insulating and lower vapor-permeance qualities.
Steam rooms and steam showers have been a popular option in ski resort communities. Resort and hotel spas, as well as fitness centers, offer this amenity for the health benefits steaming provides. This luxury benefit has enticed many people to incorporate steam units into their own homes, and this trend is growing in popularity.
Ninety percent of the steam showers we construct are not continuous-use steam rooms, but master bath and guest suite showers designed with the option to have steam while the occupants shower. Since 90% of our assemblies include rain heads and body sprays, these steam shower designs usually opt for level ceilings. But all of our commercial and residential continuous-use steam rooms are designed with the 2" per foot ceiling slope that is shown in TCNA Handbook methods SR613 and SR614, to minimize condensation from dipping onto occupants.
Regardless of steam room/steam shower design, it is critically important that the enclosure incorporates the correct membrane, since not all membranes are suitable for high-temperature and steam applications. Consult with your technical services department of the manufacturers of materials you are considering to ensure compatibility and permeance performance of the membrane.
The TCNA Handbook for Ceramic, Glass, and Stone Tile Installation contains two methods. Method SR613 is for steam room installations over concrete or masonry, and SR614 is for installations over wood or metal studs. Both methods require a low-perm waterproof membrane meeting ANSI A118.10 applied in a manner specified by the membrane manufacturer to provide a water-vapor permeance rating of 0.5 perms or less. If a perm rating of 0.5 or less is not achievable, the TCNA Handbook also recommends the use of a vapor retarder with a perm rating of 0.1 or less behind the wall assembly. Keep in mind that integrated bonding flange drains should not be used if the vapor retarder behind the wall assembly is required. Waterproofing should not be confused with vapor retarding.
Organic mastics should never be used in either steam room or steam showers and the use of natural stone in steam environments should be extremely cautioned.
Dan and Elizabeth Lambert of Lambert Tile and Stone located in the Vail Valley of Colorado have been providing high-end residential tile installations since 2000. Dan is a Regional Board Director for the NTCA and sits on the NTCA Methods and Standards Committee and the Technical Committee. Lambert Tile and Stone is a NTCA Five Star Contractor and employs Certified Tile Installers (CTI). Certifying our employees is so important to us that we hosted our own testing site at our warehouse with support from our local community who provided us with the lumber to build our own testing modules. The local tile stores and distributors sponsored all our meals for two days. Having the CTI designation has been a great tool to show our builder community how we support, test and educate our employees.