New Products – September 2016

USG Durock™ Brand Tile Membrane is ideal for use under tile in residential and light-commercial applications. This product is water-resistant, thin and vapor-permeable for use on nearly every floor or counter top designed to accept tile including bathrooms, kitchens, laundry rooms and entryways.
Features and benefits include: crack-isolation solution when installed with Durock™ brand tile membrane adhesive; proprietary cementitious coating provides outstanding tile bond; rolls out flat, with no rollback memory; lightweight, thin and flexible – easy to handle and install; cuts with scissors or knife – no dust, no mess; installs quickly – no mechanical fasteners required; waterproof and vapor-permeable membrane; and mold and mildew resistant. www.usg.com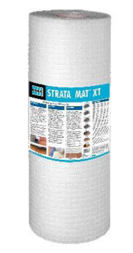 LATICRETE has introduced lightweight STRATA_MAT™ XT, a next-generation, high-performance uncoupling membrane designed specifically for ceramic tile and dimension stone installations. STRATA_MAT XT provides vapor management, eliminates transmission of in-plane substrate cracks of up to 1/8" (3 mm), assists with easier floor layout as chalk lines are easily visible on the surface prior to tile installation and performs all these functions while still providing the requisite support and load distribution for tile and stone covering. At 5/16" (7.9 mm) thick STRATA_MAT XT helps to creates an even transition between typical 1/4" to 3/8" (3 to 9 mm) thick tile and 3/4" (19 mm) thick hardwood flooring.  The design also allows installers to see mortar coverage underneath the mat during installation without having to lift and verify. STRATA_MAT XT comes in 150 ft. rolls measuring 45" x 40' feet (13.9m2 – 1. m x 12.2m) and measures 5/16" (7.9 mm) thick. www.laticrete.com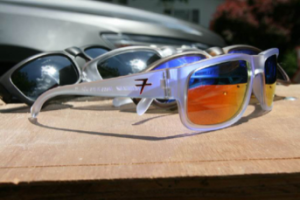 Fatheadz eyewear are job essentials that ensure eye safety for those who work outside most of the day and need sunglasses for protection from the elements on the job and the sun. The Fatheadz v2.0 line is made in the U.S. and features polarized lenses and an anti-reflective coating. Sunglasses are available for men and women, with prescription lines available as well. www.fatheadz.com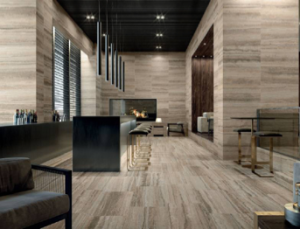 Landmark presents Magnifica, a selection of travertine crosscut tiles in high-quality porcelain that accentuates contemporary architecture with the benefits of porcelain. Each slab is highlighted by a subtle three-dimensional surface and authentic graphic details. Magnifica is fade resistant, eco-friendly, pet-friendly, frost-resistant, compatible with floor-warming systems, acid-resistant and easy to maintain and keep clean. www.landmarkceramics.com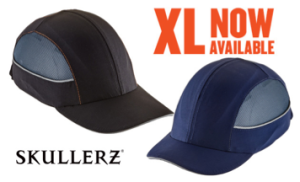 Ergodyne has announced today the addition of a new XL-sized bump cap to its Skullerz® Head Protection offering. Now, workers of all head sizes can be protected from cranial bumps and bruises offered by the patented, state-of-the-art shell. The Skullerz® 8950XL Bump Cap offers the same comfort and style of its innovative predecessor, the 8950 Bump Cap, including the removable, impact-resistant shell with foam lining. The shell's flanged design allows for airflow and breathability while maintaining protection, and compliance. Both sizes meet the requirements of EN 812, the world's only bump cap standard. The XL size is recommended for those with hat size 7½ or above. Nylon construction features reflective accents, and the cap is available with a short (50mm) or long (80mm) brim. Ideal for applications where worker-generated impact is a hazard or workplaces that don't require a hard hat but still have head injury risks, the Skullerz 8950XL Bump Cap is available in black or navy at all authorized Ergodyne distributors worldwide. www.ergodyne.com
TEC® announces a sweeping new roster of surface preparation products that deliver installation advantages and improved product performance. The expanded TEC® surface-prep line includes 10 new products in five general categories: self-leveling underlayments; skimcoats; patches; crack isolation systems; and specialty products including wear layer overlayments. The expanded breadth of the new TEC® surface preparation line extends the company's commitment to provide product excellence while helping contractors save time and money. The new line also builds upon the company's leadership position in the grout and mortar product categories.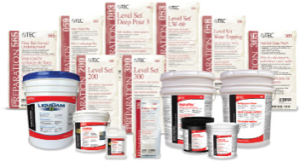 The new TEC® Level Set® 300 Self-Leveling Underlayment is a premium underlayment that's formulated for fast-track flooring installations. Ideal for quick turnarounds, it is walkable in just two to three hours – and provides a flat, extremely smooth, durable surface. It's suited for a feather edge to 2" single application and boasts a compressive strength of 5,500 psi.
The new TEC® Feather Edge Skim Coat is a proven solution that's designed to skim coat, smooth and level irregularities from feather edge up to 1⁄2". With exceptional performance and bond strength, it sets in as few as 15-20 minutes for most flooring.
The new TEC® Level Set® Deep Pour 3 surface prep solution helps installers power through projects to quickly fill deep trenches up to 3" in one lift, without aggregate. Ideal for thick-build applications without comprising return-to-traffic timing, it accepts non-moisture sensitive tile and stone within only four hours.
The extensive new lineup also includes specialty surface preparation products. The new TEC Level Set LW-60 is a high-quality, ultra-lightweight self-leveling underlayment that's ideal for multi-level structures where load-bearing restrictions apply. Fifty percent lighter than traditional self-levelers, it doesn't compromise coverage, traffic or installation time. The new TEC Level Set Wear Topping is a decorative concrete finish available in three base colors that accepts stains, sealers and coatings within 24 hours after application. Colorant can be added at time of mixing to bring flair to any concrete floor or other concrete surface.
All TEC® surface preparation products are backed by a limited lifetime system warranty when used with TEC® adhesives, mortars and grouts. www.tecspecialty.com