Benefits Box: NTCA Voice of the Contractor at TCNA Handbook Committee Meetings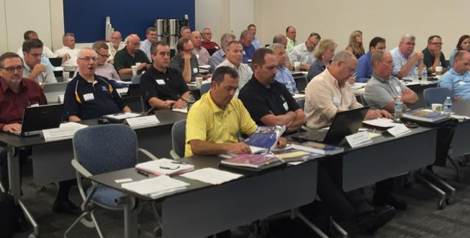 by Lesley Goddin
Usually in this section, we explore the different business benefits membership in NTCA affords in terms of programs NTCA offers, educational opportunities, discounts and the like.

But this month, we want to bring to your attention the advocacy for tile contractors and installers of which NTCA is a part. Hopefully, by now, you are well acquainted with the industry "Bible" of approved methods and standards for installing ceramic tile, stone, and glass – the TCNA Handbook for Ceramic, Glass and Stone Tile Installation. Every two years, the Handbook Committee meets to adopt changes to the Handbook, refine discussions and explore methods and standards that would make the industry better and that would improve tile performance and reduce failures, which makes tile contractors' lives a whole lot better.
At the time of writing (June), the Handbook Committee meetings have just wrapped up in Atlanta. More than 120 guests attended, with 38 voting members, including NTCA representatives Nyle Wadford, James Woelfel, Chris Walker and alternates Martin Howard, Bart Bettiga and Dan Welch, as well as Scott Carothers voting for CTEF. NTCA guests include Rod Owen, and NTCA training and education coordinator Becky Serbin. Other NTCA members in attendance included Methods & Standards chairman Kevin Fox, and his head estimator Kyle Maichel – and those who represented union tile associations: NTCA board member Rich Galliani of the Tile and Stone Council of Northern California; Lupe Ortiz of BAC in San Francisco; NTCA Five Star Contractor Rich Papapietro of De Anza Tile, San Francisco, representing TCAA; Earl Anderson of NTCA Five Star Contractor Grazzini Brothers of Eagan, Minn.; Mike Hawthorne of IUBAC; Kurt Von Voss and Jerry Chioni of Great Lakes Ceramic Tile Council and NTCA member Brad Trostrud of Trostrud Mosaic & Tile, Wood Dale, Ill.
This large number of NTCA members attending this event brought the Voice of the Contractor to bear upon decisions being made and standards being developed. Currently, the thin porcelain tile product and installation standards are still in discussion as we work towards developing these standards.
Voices from NTCA
NTCA president James Woelfel said of the meeting results, "We have new language on coverage and tile inspection standards. Tile installations are to be inspected on the wall at 36" and on the floor at 60" away. This prevents people from crawling on their hands and knees and using a magnifying glass to find imperfections in the tile installation. Thirty-six inches is in ANSI 137.1 Inspection for Manufacturing Standards for Imperfections. A lot of hard work from the NTCA!"
He added that "Kevin Fox, Martin Brookes, Chris Walker did a fantastic job with the NTCA submissions. The new language inserted into the Handbook will save tile contractors money. Uncoupling membranes were allowed to stay in the book but we were promised that standards for uncoupling will be ready for the next Handbook meeting. Make sure if you use an uncoupling underlayment you follow the manufacturer's directions."
Concerning the inspection language section, Kevin Fox, head of the Methods & Standards Committee, commented that "our original inspection section got divided up into mainly three areas:
New section under Finished Tilework called 'Visual Inspection of Tilework'
Two new sections under Grout Joint Size and Patterns Considerations called 'System Modularity' and 'Tile Layout'
New section under Using the TCNA Handbook for Specification Writing called 'Design Considerations when Specifying Tile'
"There was also language added to the Mortar and Mortar Coverage section noting 100% mortar coverage is not practical and should not be specified," Fox added. He added that language was inserted under the Membrane Selection Guide that indicates that it's normal for tile installed over membranes to sound hollow.
"These were all topics covered in our original inspection submittal that was moved to more appropriate sections in the Handbook," he said. "This will be, in my opinion, the most impactful new language."
NTCA past president Nyle Wadford of Neuse Tile Company, observed that "The NTCA, along with all elements of tile contracting labor, was tremendously influential in the 2016 TCNA Handbook Committee meeting and its outcomes. Our leadership for the tile industry was recognized and even sought on most all the issues presented. The professionalism and passion for the industry demonstrated by the NTCA members present was evident as numerous changes to Handbook language should add protections for tile contractors along with needed installation revisions to our craft. The entire membership should be proud of what was accomplished in Atlanta this year."
Christopher Walker, chairman of the ANSI A108 Committee, said, "In the past decade, the NTCA in particular has achieved success in elevating the profile and recognition of the installation contractor's voice in the various committees and agencies associated with the tile community. This was never more apparent…as multiple submissions proposed by NTCA members were easily incorporated into the TCNA document. Special recognition should be extended to Kevin Fox. His background as an engineer and his passion for the industry were on full display as evidenced by the high level of collaboration received from multiple manufacturers, testing agencies and industry experts. The submissions coordinated by Kevin as current chairman of the NTCA Methods & Standards committee received great support among the TCNA Handbook Committee."
What's essential – in addition to changes in the 2017 Handbook – is this role NTCA members play in shaping the industry and vying for the importance of the installer. Want to be a force and a voice in this industry? Consider joining NTCA – contact assistant executive director Jim Olson at [email protected] for details