Ask the Experts – August 2016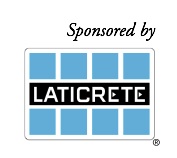 The following conversation took place between a contractor and NTCA technical trainer/presenter Mark Heinlein.
QUESTION
I would like some feedback on a recurring issue with a shower pan that was installed about a year ago (see attached pictures). The curbless shower pan is staying damp and not drying out even after days with electric heat set at 85 degrees.
The installation procedure used was as follows:
Prepan liner
Membrane over prepan
Mud sloped to drain
Liquid-applied waterproofing over pan and up inside and outside walls
Heated floor (skimcoated)
Liquid-applied waterproofing over that
I am looking for a way to rectify this issue and to prevent it from occurring in the future with light colored stone.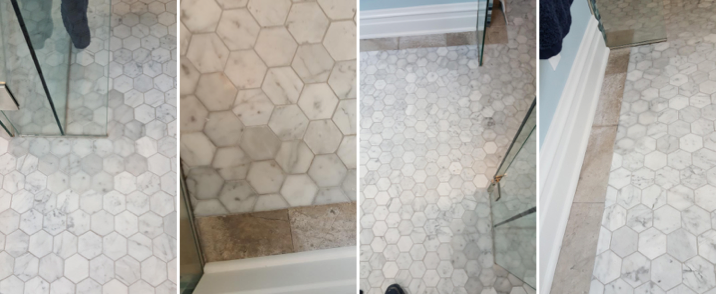 ANSWER
I have reviewed the photos you sent and read the description of your installation and have a couple of questions.
Did you install a pre-slope and liner with a clamping ring drain?  Or did you use a bonding flange-type drain, or a divot method?
Are the fixed glass panels mounted with fasteners (i.e. screws) to the floor/pan?
Please let me know.
I suspect that water may have pooled in low spots beneath the tiles that has caused the minerals in the soft marble to stain.
– Mark Heinlein,
NTCA technical trainer/presenter
QUESTION
Yes, there was a pre-slope drain with a clamping ring drain.  Workers installing the shower door said they drilled only through the tile for the shower door. There is really no area for water to pool due to the mosaic tile being installed with a small notched trowel.
If they penetrated through our waterproofing and mud bed, do you think that could have created the issue by the shower door?
ANSWER
Yes. Very likely the screws were longer than the thickness of the tile. If the liquid-applied waterproofing applied to the surface of mud bed / heat mat installation was penetrated, water can seep into the screw holes and wick into the bond coat and up into the stones. By what I can see in the photos, it appears this is the area where the staining has occurred.
Required mortar-bond coat coverage in a wet area, especially for natural stone, is 95% minimum. It is even more critical to have full-coverage bonding of soft stone on a shower floor. Were you able to get full coverage with a small notched trowel? There may be voids in the bond coat that are filing with water and staining the tile from beneath.
I also have some concerns about encapsulating the mud bed and heat system with a liner at the bottom and one or two layers of liquid applied membrane on top. How is the topical liquid membrane making a waterproof connection to the clamping ring drain?
Please take a look at TCNA Handbook Methods B421-15 and 422-15 for details regarding bonded waterproofing membranes on a sloped mortar bed shower receptor.
If you find there is no water entering through the screw holes, and if you have a good connection of the liquid waterproofing to the clamping ring drain, and if you have full-mortar bond coat coverage under the tile, this may be an example of when water stains soft stone tiles in shower pans in many types of installations. This phenomenon is currently being researched by an NTCA Technical Sub-Committee.
– Mark Heinlein,
NTCA technical trainer/presenter