Tech Talk – May 2016
New product technology for trendy bathroom remodels
Bathroom remodels are sound investments for your customers. The rate of return tends to be 75% or more of the initial investment, which is significantly higher than many other home renovations. The 2016 Kitchen & Bath Design Trends Report predicts that "transitional" style will dominate this year's bathrooms. Transitional style blends the traditional with the contemporary – balancing comfort with sophisticated, clean lines. You can provide your customers with transitional style by incorporating the following three types of products.
Preformed components
One way the 2016 Kitchen & Bath Trends Report suggests that transitional style can be achieved is with open storage and built-in shelving.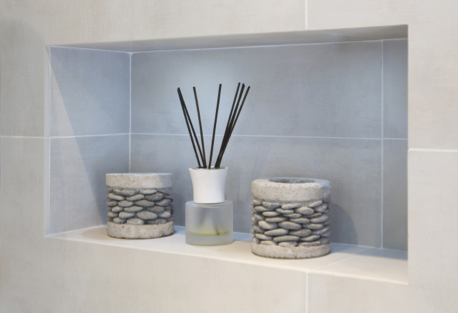 Preformed components – like niches – can provide unique open storage options for residential bathrooms. Preformed components are consistent and easy to install – great for fast multi-unit residential and hospitality installations. Look for products like TEC® Preformed Components that integrate seamlessly with existing surface prep solutions, mortar, tile and grout. For protection against mold and mildew, choose a product that comes coated with an IAPMO-approved, waterproof membrane that meets ANSI A118.10.
Preformed components are a great way for tile installers to add a design element that fits with today's building trends.
In-floor heat innovations
In-floor heating systems also align with the transitional aesthetic. They serve as an "updated classic" for stone and tile floors. Moreover, they are a great selling point when listing a home. They may reduce heating costs, so they are a true investment – not simply a design trend.
Beyond adding value to the home, features like in-floor heat bring a feeling of luxury and warmth (literally) to bathrooms, to make getting up in the morning and getting home in the evening more relaxing. Although they are considered luxury items, improvements in efficiency have made them a more viable option for both building owners and contractors.
The right products can also cut down on the special ordering and lag time associated with radiant heat installations. For example, TEC™ In-Floor Heat is customizable on-site to fit any space – eliminating the lag time of special orders.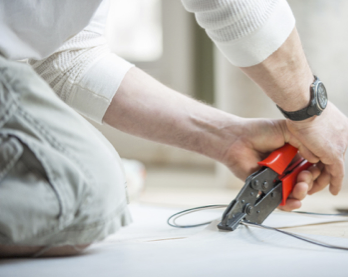 Advances in technology have made installations more efficient as well. In the past, in-floor heating installations had many cumbersome steps: the system had to be installed, anchored and encapsulated in a self-leveling underlayment. Today, some products – including TEC In-Floor Heat – can simply be embedded in mortar. Then, tile and stone can be installed directly over them.
Despite many advances, the wiring of installation systems can still present a challenge. Look for products that offer the simplest wiring available to avoid frustrating installations. The new TEC In-Floor Heat mat does not have coils or wires that require patterning—saving installation time. For all systems, be sure to use an electrical source with the correct voltage. If you hook up to a power source with the wrong voltage, it could damage the system.
Before adding radiant heat installation to your repertoire, check your local building codes. Some areas of the country require a licensed electrician to complete the installation, while others allow a tile contractor to do so. Almost all manufacturers recommend that a licensed electrician complete all electrical work.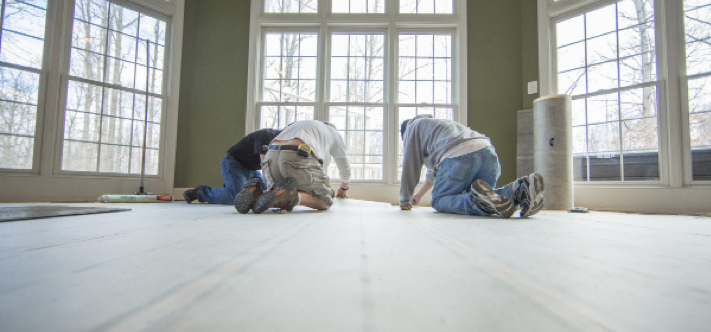 In-floor heat systems are available à la carte or in kits. Since they are luxury items, look for products with touchscreen or programmable thermostats to provide the utmost convenience for your clients. Most thermostats can be set for either ambient room temperature or floor temperature.
Grout color trends
This year's trends also include neutral colors – like greys, whites and beiges. Look for grouts that fit this description. Although beautiful, these light colors can also be more subject to unsightly staining than darker grouts. With that in mind, you should recommend stain-proof and mold- and mildew-resistant grouts, like TEC's DesignFX® grout, shown below. These durable characteristics offer convenience to your customers and help preserve the aesthetic of their spaces.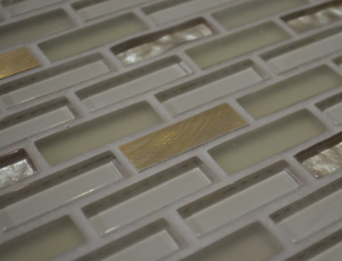 New product innovations have made installing high-end bathrooms easier. By carefully selecting the most efficient products, you can make stylish bathroom remodels more convenient for your customers and more profitable for your business.
The TEC® brand is offered by H.B. Fuller Construction Products Inc. – a leading provider of technologically advanced construction materials and solutions to the commercial, industrial and residential construction industry. Headquartered in Aurora, Illinois, the company's recognized and trusted brands – TEC®, CHAPCO®, Grout Boost®, Foster®, ProSpec® and others – are available through an extensive network of distributors and dealers, as well as home improvement retailers. For more information, visit www.hbfuller-cp.com.