Member Spotlight – Hecox Instruction, Inc.

When Dan Hecox, current NTCA State Director for Nebraska, was just a wee lad, he had a penchant for tearing things apart and putting them back together. Junior and high school classes in shop that included building constructiocn, welding, finish carpentry and drafting attracted him like a magnet, so much so that after high school graduation, he went to Southeast Community College and earned an Associate Degree in Building Construction.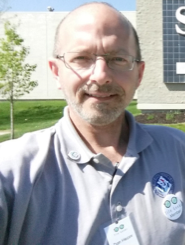 His next step after graduating college was to establish a business as a general contractor in 1991 to exercise his passion for finish carpentry. In 1998, he began working for a management company that owned Pizza Huts, which gave him a chance to flex his construction muscles and immerse himself in the world of tile setting. "In the 15 years of working on Pizza Huts, I traveled around the Midwest working on 30+ stores, doing everything from minor repairs, to full remodels, to building the stores," Hecox said. These locations needed remodeling of the restrooms, with tile set around sinks and urinals – and at the time, Hecox had not yet set tile. He educated himself and fell in love with tile setting – "it was a lot like finish carpentry," he said. "It required a lot of attention to detail, to have it done correctly." After many years of working with his local tile supplier in Lincoln, his sales reps questioned him as to why he wasn't setting tile full time. "I had never been asked that before and decided it was time to transition to just tile," he explained.
Over the last three years, Hecox has specialized exclusively in tile, jumping from his GC commercial restaurant specialty with regional Pizza Hut construction and some residential work, to strictly custom showers, bathrooms in new residential construction and remodels. "I'm still listed as a GC, but I'm no longer doing GC work," he said. "I'm looking into changing my business name to reflect the 24/7 tile work."
Hecox is deeply involved in the industry and in making sure his customers are happy. "I have continually gone to different workshops and specialized training opportunities around the country," he said. "I attend trade shows and network with my peers to do the absolute best job I can do for my customers. That includes taking the hands-on portion of the Certified Tile Installer test during the recent Coverings show in Chicago – with a goal to achieve the seven ACT certifications, obtain further training at Crossville this fall and work with two other shops on both East and West coasts "to shadow them and learn about mud work, floating walls, etc.," he said. (At this writing, Hecox is CTI #1215)
Hecox is a one-man operation, and signed on as a NTCA member about a year ago, after receiving TileLetter for about a year. He said he "could see a great benefit to belonging to a trade organization and expanding my business through networking with other like type trade professionals." He wasted no time becoming NTCA State Director for Nebraska. Hecox said, "The greatest value in being a NTCA member has been networking with people not just in the United States but also globally. It has allowed me to become friends with people I would never have known otherwise."
Hecox experienced a blip in his career path in 2007, when in the middle of the Pizza Hut building project, he was diagnosed with stage 4 tonsil cancer. The doctor demanded he quit work for over four months to undergo treatment, but instead Hecox worked through the neck dissection, and time-consuming radiation and chemo treatments to get the restaurants built, then took a much-deserved rest when they were complete.
"Being able to fulfill people's dreams and desires with their homes" inspires Hecox. "Seeing people's reactions as the different phases of the project are completed and hearing their praises of happiness keeps me highly motivated." And their praises – together with all Hecox's dedication – are paving a path towards more prosperity for Hecox, with their word-of-mouth advertising fueling the growth of his business.
Projects
These two projects illustrate the scope of Hecox's work today. In the first, the customers had requested a zero-entry shower. Since the framing was already complete, Hecox cut out sections of the subfloor and reinforced the I-joists in order to lower the subfloor and install the two linear drains to match the floor tile height. Heat was installed on the floor and bench.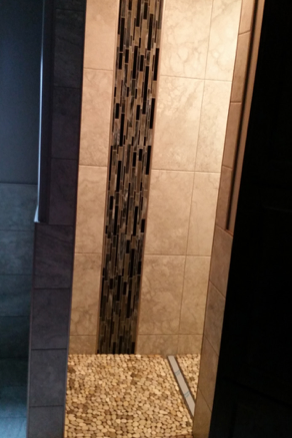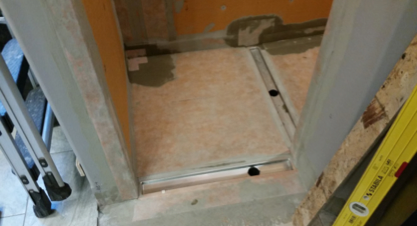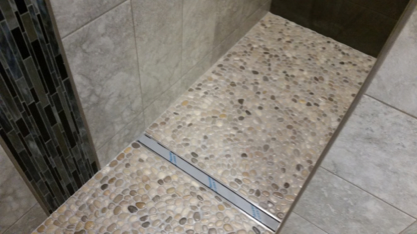 In the second project, 1,200 sq. ft. of plank floor were installed with alternating 6" and 9" width planks, along with alternating colors of Natural and Saddle.