Industry News: June 2016
Ceramic Technics wins Confindustria North American Distributor Award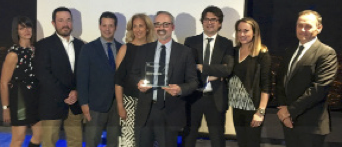 Confindustria Ceramica (the Italian Association of Ceramics) named Atlanta-based tile and stone distributor Ceramic Technics Ltd. as the 2016 Confindustria Ceramica North American Distributor Award. Ceramic Technics Ltd. emerged as this year's winner due to its 28 years of high-level service as an importer and distributor in the commercial sector, characterized by a close attention to detail and keen understanding of the distinctive qualities that Italian ceramic tile offers. Other factors decided by the Supervisory Committee who made the decision included consistency, exemplary service as an Italian tile importer and distributor, a high-caliber corporate image, inclination towards Ceramics of Italy products, and fair trade practices in relation with Italian manufacturers.
CTDA names MAPEI Supplier of the Year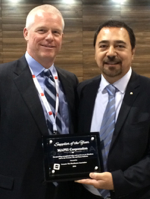 The Supplier of the Year award, which is voted on by the Ceramic Tile Distributors Association (CTDA) members, recognizes domestic and international supplier(s) who provide the most value to its distributor members and the ceramic tile and stone industry. The award this year went to MAPEI, international manufacturer of tile and stone setting systems. Rick Church, executive director of CTDA (l.) with Luigi Di Geso, president and CEO of MAPEI, are shown with the Supplier of the Year award.
Atlas Concorde establishes Tennessee headquarters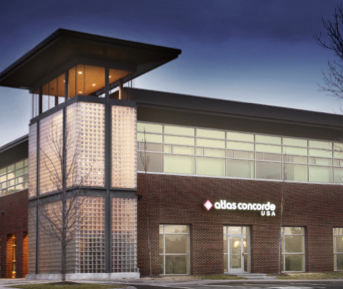 Atlas Concorde, a global leader in the ceramic industry founded in Italy in 1969, has launched Atlas Concorde USA, a ceramic and porcelain tile brand created to blend true American heritage and tradition with Italian cutting-edge design and excellence.
Atlas Concorde USA opened its headquarters and showroom in Franklin, Tennessee, to better establish and strengthen American customer relationships built on trust, loyalty and honesty. The lines will focus on aesthetic appeal with excellent technical performance.
"All our products will be proudly made in America," said Atlas Concorde USA, president, Maurizio Mazzotti, emphasizing a dedication to high manufacturing standards that have distinguished its brand. "Our goal is to enhance American living spaces with these innovative U.S.-inspired surfaces," said Mazzotti. The company launched 16 new collections manufactured at this plant, which "were designed and created following the U.S. market's style and trends, to combine history and traditional feel with the latest interior design styles." More info at www.atlasconcorde.it.
Del Conca USA plans to double porcelain tile capacity

Only two years after opening its U.S. production facilities, Del Conca USA, a subsidiary of Italy-based Del Conca Group, has put in motion plans to double its capacity of porcelain tile production at its Loudon County, Tenn., plant from 32 to 65 million sq. ft. per year.
The expansion was announced during the Coverings show in Chicago by Enzo Donald Mularoni, CEO of the Del Conca Group. He noted that the expansion will mean new jobs for the community with an increase of about 40 new local employees to the currently employed 85, and will utilize Italian technology in the plant – "making it a perfect combination of Italian and American talent," he said.
The expansion, with work expected to begin during the second half of 2016, and production to start in early 2017, involves a further investment of 30 million USD both for construction and the purchase of new Italian technology. The plant will expand in size from 320,000 sq. ft. to 430,000 sq. ft.
The installation of two new production lines will be dedicated to large format and increased-thickness tiles such as the due2 20 mm thick collection for outdoor installations. In addition to increased production, the expansion will mean faster deliveries and better services to U.S. clients. Find more info at delconcausa.com
Landmark Ceramics joins Tennessee tile manufacturing community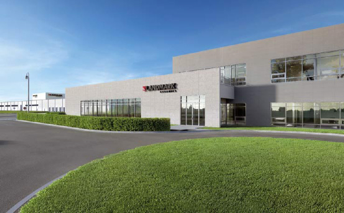 Gruppo Concorde, established in Italy in 1968, founded Landmark Ceramics in Mt. Pleasant, Tenn., in 2013. Landmark specializes in the production and marketing of high quality porcelain tiles for architectural, residential and commercial at its 700,000-sq.-ft. facility, situated on a 96-acre plot. Annual production capacity is 50 million sq. ft. Production, logistics, sales and marketing departments are contained in one single large production complex, integrated with the local territory. The Landmark production site reflects the highest international standards of environmental protection that include attention to energy efficiency, recycling and re-use of various materials, and the reduction of the impact on the environment. For more information, visit www.landmarkceramics.com
Wonder Porcelain to manufacture in USA
Wonder Porcelain Group, LLC, distributes tile nationwide from its corporate headquarters and distribution hub in Plano, Texas, with additional distribution centers in Florida and California. Part of Dongguan City-based Marco Polo Group – one of China's largest tile manufacturers – domestic manufacturing is set to start in late 2016 at the state-of-the-art 150-acre plant in the Cherry Farm Industrial Park in Lebanon, Tenn., now under construction. The advantageous location was selected due to its proximity to Interstate 40 and other transportation routes, and necessary resources and raw materials. The 500,000-sq.-ft. plant will add more than 200 new jobs to the area.
The company is under the direction of Michael Kephart, CEO, and Laurie Lyza, director of marketing. All products are certified as porcelain by the TCNA's Porcelain Tile Certification Agency and tested by TCNA to verify performance standards. For details, visit www.wonderporcelain.com.