Editor's Letter – June 2016
"If you want something in your life you've never had, you'll have to do something you've never done."
– J.D. Houston
So, last month, we started teasing you with reports from Coverings. This month, we launch fully into people, products and news from the show. In this issue, you'll get an overview of the show, as well as reports from the Coverings Installation Design Awards (CID) Opening Ceremony and Reception, the Installation Design showcase (IDS) and NTCA Award night. Learn about which companies and people are doing an outstanding job in their sector, are working to promote qualified labor, and see the result of designer/installer/supplier partnerships in the IDS recap – including the novel approach Welch Tile & Marble took to constructing its vignette – in a container, so it could transport it back home and use it for educational purposes!
We have a generous collection of products seen at the show for you – and we'd also love to hear what knocked your socks off on display at Coverings. Just email me at [email protected] – and if you have a picture to go along with it, that would be dynamite!
We also have a recap of NTCA Awards night, a relatively new event at Coverings. Ten years ago, when I first began working for NTCA, we didn't have a NTCA Awards Night at Coverings, per se – we had the TileLetter Installation Awards, which examined many of the technical feats accomplished by installers on stunning projects. Coverings was sponsoring the Prism and Spectrum Awards. Over time, the Prism and Spectrum awards merged with the TileLetter Installation Awards, morphing into the CID Awards, which TileLetter co-sponsored, held the third night of the show.
But three years ago, Coverings management and ownership shook things up and moved the CID Awards to the first night of the show, to welcome visitors and kick off the event with a festive gathering. NTCA leaders saw an opportunity to have a special NTCA night again at Coverings and seized the third-night spot for a brand new event: NTCA Awards Night. In addition to the awards at the Total Solutions Plus gathering in the fall, this spring ceremony allows NTCA to honor and recognize stellar residential and commercial work from our NTCA Five Star Contractors, present Special Recognition Awards to two individuals for their dedication to promoting the tile trade and membership, and to present the NTCA Tile Person of the Year, and Joe A. Tarver Lifetime Achievement Award.
In addition to those awards, presented in a warm, family-type atmosphere, this year NTCA offered something new: The Tom Ade Ceramic Tile Scholarship Award, which was established by the NTCA to provide educational opportunities in college or trade for children or grandchildren of NTCA contractor members. This year, two scholarships were awarded, and NTCA hopes to raise additional funds to offer multiple scholarships in the future.
So if you couldn't attend the show – and even if you did, because no one can be everywhere – enjoy the reports on the event, beginning on page 70. And remember, if you found something new and outstanding at the show or had an amazing experience meeting up with old friends or meeting new colleagues, feel free to share it for publication in a future TileLetter issue!
God bless,
Lesley
[email protected]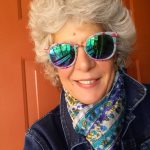 Editor for TileLetter, TileLetter Coverings, TREND and TECH publications.
Lesley Goddin has been writing and journaling since her first diary at age 11, and drawing and sketching since she could hold a pencil. Her penchant for observation led to her becoming a paid professional as a trade journalist, publicist and is editor for TileLetter. She has also written for Guideposts, Walls, Windows and Floors, Floor Covering Weekly, and Low Carb Energy.