Ask the Experts – May 2016
QUESTION
Is there any TCNA or industry information that indicates that rounded-top porcelain cove base is not meant for situations where tile is installed on the walls above the base (since it has a rounded top)? I'd also like to know how the cove base is to be installed in conjunction with floor tile. I stated in my RFP to "install metal trim strips when coordinating porcelain tile pieces are not available." Given that the cove base option for a selected tile series has a rounded top and foot, this causes a potential for an unclean install. The options that the contractor has given us are:
Using the wall base and filling in the rounded top with an enlarged grout joint,
Cutting the wall tile and butting it to the floor tile with either a grout or caulk joint at the connection, or
Field-cutting the rounded tip of the wall base off
These are not preferred options for the government, as these lead to maintenance issues down the road for the facility.
Do you have any idea how I can respond to this or help with any industry or TCNA info? Thanks so much!
ANSWER
There is no such language in the TCNA Handbook or in any of the ANSI manuals.
I believe that the #3 solution is the proper method, and how my contracting company usually accomplished this detail if round top cove was the only cove available (if cove was required). Be sure to stone the cut, and although it will have a slightly different appearance than a factory edge, it will not be a maintenance issue. Since the tile cove is round footed, it is designed to be top-set.
There is another option that is very effective, if somewhat more expensive. Profile and edge manufacturers make stainless steel coves (with corner trims available) with different sizes available to match the thickness of your tile. Very beautiful, easy to install, and cool, too!
If cove is not required by code, then just use the field tile at all inside corners with a joint filled with foam backer rod and ASTM C920 sealant (100% silicone or single part urethane). Be sure that the tile is not set tight and that the joint is completely free of mortar and grout.
– Michael Whistler,
NTCA technical trainer
QUESTION
We are currently working on a project that includes 30,000 sq. ft. of penny round tiles that were manufactured in Japan. It's our understanding that penny rounds are classified as a specialty tile and therefore, very little criteria has been set regarding the mounting of them. We are having some issues with the specified product and need a third party to evaluate the mounting of the tile. Can you offer some assistance or point us in a direction regarding mounting issues with mosaics, in particular penny rounds?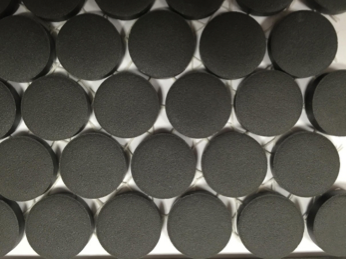 Attached are pictures of some of the mounting problems, including inconsistent spacing, sheets not being square and excessive mesh where the sheets meet up with one another. Another problem is that the individual tiles release from the mesh backing as soon as they get wet (from thinset).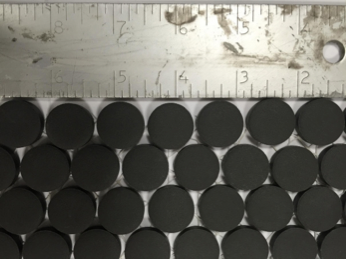 Two manufacturers' reps were here last week to review the problems. Their solution is to either send us a video or one of their Japanese installers to show us how to install the tile. As you may imagine we took exception to their suggestion. We have plenty of experience with the installation of penny round tile and have processed through many issues regarding sheeting and wall-washing concerns. What we are in search of, is some guideline or criteria that we can show ownership so they can assess their expectations more in line with industry standards. Any assistance you can share with us would be greatly appreciated.
ANSWER 1
You certainly seem to understand all of the issues and have the experience to install penny round mosaics, which are difficult at best. The tiles you have been provided appear to have an especially flimsy mesh backing, and the inconsistent spacing and water-soluble adhesive is not going to help matters.
Obviously, a proper substrate that meets minimum deflection and flatness requirements and using the correct mortar and troweling method to achieve a minimum of 80% coverage on each tile with no squeeze-through will be critical.
I'm almost thinking that to have the manufacturer send their installer to show you how it's done (for the duration of the project) might be a way to bring the manufacturer on board with some liability for the installation.
Has all of the tile been manufactured and delivered? Have you discussed the matter with the owner and architect?
Other than what Katelyn has provided below and the general workmanship requirements found in the TCNA Handbook and ANSI standards, I am not immediately coming up with anything that I can send you. I will check with my colleagues and get back to you.
Perhaps the best approach will be to hire a recognized consultant to come in and serve as a third party to view the tiles and installation area and scope of work and provide you with a written opinion.
– Mark Heinlein,
NTCA technical trainer
ANSWER 2
From a third party testing lab's perspective, there is no way to measure mounting variation of penny round, mounted ceramic mosaic tiles. The mounting variation test methods for mounted tile are only performed on square mosaic tiles. I've included an excerpt from ANSI A137.1 Specification for Ceramic Tile below:
9.5 Test Method for Mounting Variations
9.5.1 This method is only valid for mosaic tiles with the following characteristics:
Nominally square
Nominal sizes of 1 inch x 1 inch (25.4 mm x 25.4 mm) to 3 inches x 3 inches (76.2 mm x 76.2 mm)
With straight edges
Our lab does not provide reports based on expert opinion so you may need to hire an independent consultant if that is something you are looking for. Please let me know if you are interested in an independent consultant and I'd be happy to send you the contact information for one.
– Katelyn Simpson,
TCNA laboratory manager