Member Spotlight – February 2016 – Cravillion Tile & Stone LLC (CTS)


Since 1985, Tom Cravillion has operated his business in Plymouth, Wis., just a stone's throw from Kohler, Wis., and the Ann Sacks Showroom, with whom Cravillion Tile & Stone LLC has built a close working relationship.
The contractor specializes in tile and stone work for high-end residential homeowners that are either by referral or are satisfied customers. Cravillion said, "Over 80% of our business this year alone was previous customers." In addition, the company does small commercial projects as well as new homes and renovations.
True craftspeople, Cravillion Tile & Stone specializes in dry-pack mud floors over hydronic heat tubes that involve marble or stone finishes.
Cravillion got his start in tile at age 12, when he began working with his father Gene – an architect – doing tile projects for family home remodeling jobs. At the age of 15, he started contracting jobs, being dropped off at various job sites. Cravillion took to the work with excellence and craftsmanship, so much so that at the tender age of 18, one of his jobs was featured in Better Homes and Gardens!
In 1982, Cravillion volunteered doing work on the World Headquarters of Jehovah's Witnesses in Brooklyn, N.Y., similar to the course that Isaac Homza took (TileLetter June 2015). When he returned to Wisconsin in 1985, he founded his business, developing close personal working relationships.
"We began to find our niche in doing what others said could not be done," Cravillion said. "Early on, we began following NTCA, TCNA, and ANSI guidelines. We grew to eventually have over 12 employees and a fleet of trucks, servicing eastern Wisconsin, even doing work in Hawaii, Montana, South Dakota, Florida, Michigan, Connecticut and New York." In 2006, Cravillion Tile & Stone LLC earned the First Prize Commercial Spectrum Award for "The Women's Room".
The economic downturn of 2008 forced the contractor to make some changes, reducing work staff and overhead down to five full and part-time employees.
Sweet sixteen
This year marks the 16th year of NTCA membership for the contractor, which joined in 2000.
"While attending a NTCA work shop conducted by Dave Gobis back in the late 1990s, we were introduced to the NTCA and began to see the value it offered," Cravillion said. "In 1999 while attending the Coverings show in Orlando, Fla., we cemented the commitment. Because of this we began to see how we could set ourselves apart from the rest of the crowd. We are not always the lowest price in a competitive bid, but specialize in doing the job right according to TCNA guidelines and ANSI standards." One way the company sets itself apart from others, is by setting up a cleaning schedule and maintenance program that they follow through with on a yearly basis with customers.
Cravillion considers the greatest value in NTCA membership to be the networking with other contractors and industry leaders throughout the country: "people like Jim Olson, Bart Bettiga, John Cox, Michael Whistler, Isaac Homza, and well as many others," he said. "We have benefited from the training seminars at Coverings, Total Solutions Plus, Daltile and setting materials manufacturers. As a NTCA State Director for Wisconsin, my goal is to bring this wealth of knowledge to those who are willing to participate. We also value the voucher program that is provided each year."
Cravillion took his professionalism up another notch by becoming Certified Tile Installer #1116 on April 14, 2015. "It was a tremendous accomplishment, yet highly stressful test, being judged by your peers not just the customer," he said.
Integrity is key to Cravillion. "When we know we have shown integrity, done the best we could, and have a satisfied customer – that is the reward, large or small," he said. "It's not about the money or income but knowing you did your job right and did not take any short cuts."
Projects of excellence
Carriage house
Cravillion Tile & Stone LLC completed this circa early 1900s carriage house project over the summer of 2015, for a repeat customer. It entailed a linear drain system, mud-pack floors, and waterproof membrane system with polished white Thassos/Ming green mosaics.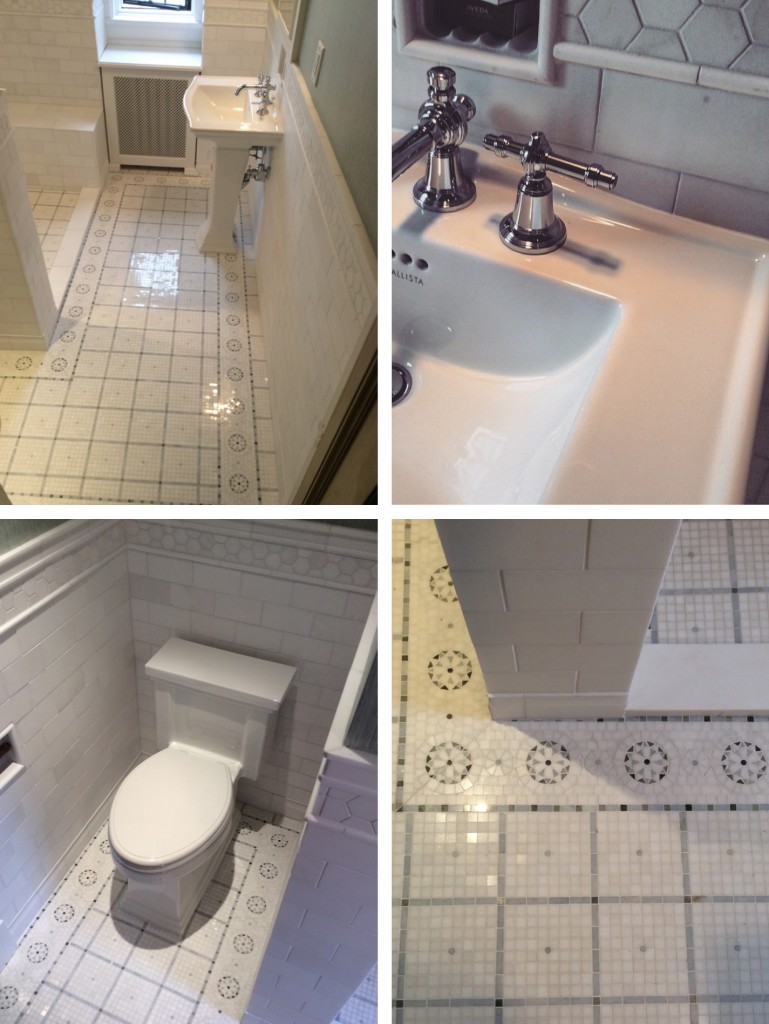 Bathroom renovation
This bathroom renovation was also completed in 2015, featuring a mud-pack floor over hydronic heat tubes, waterproofing over mud pack, and waterjet-cut pattern stone in Calacatta and Emperador marble. A linear drain was installed with curbless access. The project featured floor to ceiling marble with base and crown in matching stone.