California Flooring LTD – NTCA Member Spotlight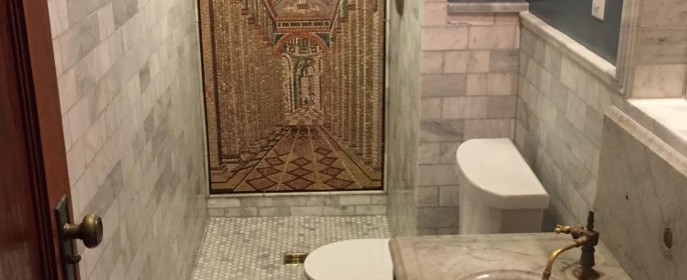 California Flooring Ltd.
Manteno, Ill.
California Flooring LTD was founded back in 1993 by Kevin Insalato. The company was (and still is) 100% referral-based, servicing new construction, residential and commercial work.
At first, Insala to used subcontactors for all installations on flooring sold: ceramic, carpet, wood and vinyl. But after about a year, he "grew irritated with the quality of the subcontractors in all areas." Instead, he decided to hire employees with no experience in floor covering and train them himself.
In 1996 he hired two installers who became his top employees: James Carr and Rafael Lopez. Both are now Certified Tile Installers and obtained their ACT certification in Large-Format Tile Installation at Coverings 2015.
Besides his tile certifications, James Carr is a woodworking craftsman, and a top remodel supervisor. Rafael Lopez has also qualified as a carpet installer, is a perfectionist, and are model supervisor. Lucas Turrell is the company's other CTI and can install all types of flooring.
Insalato said, "This is an example of our company goal to train and certify everyone in as many areas as possible."
This small company has grown to employ six installers, with Insalato's wife Renata handling billing, payroll and bill paying, in addition to her regular full-time job. Insalato himself handles all the sales, scheduling and training, miraculously managing to invest 40% of his day in the field working with his installers. The next goal for the company is NTCA Five Star Contractor status, currently in the works.
This one-stop shop is true to its name, handling kitchen and bath remodel fully in-house, including basic plumbing, electrical, drywall and painting needs." This allows me to design and sell the work, but more importantly schedule from start to finish," Insalato said. Converting tub surrounds to luxurious showers with seats, niche and glass door and panels is the biggest percentage of the company's remodel work.
California Flooring LTD also stocks the porcelain, glass tile and travertine tiles it uses the most. "Our customers can view past jobs and then feel and see the actual tile used in those gorgeous photos, not as a sample, but as several tiles laid out in their home," Insalato said. Together with its CTIs and ACT-certified installers and a fair price, its competitors have a hard act to follow, Insalato said. "Service and a genuine love for what I do usually will clinch our sale," he added.
California Flooring LTD started out in a small, rented 1,200-sq.-ft. commercial space with showroom, office and warehouse all in one. In 2001, it purchased and moved onto a 10-acre farm in Manteno. The company has a two-story building with a 5,000 sq. ft., heated warehouse, private showroom, office and living quarters. A second building holds cold storage. It can store up to 90 pallets of tile, underlayment, borders and building materials.
The influence of NTCA
Insalato joined NTCA in January 2008, at the height of the recession and when the company was in terrible financial straits, he said. "I first talked to Jim Olson at the NTCA booth at Surfaces," he explained. "He was so professional and passionate that joining made sense, but spending the money did not. Once he explained the vouchers, I said, 'I can't resist this,' and joined."
Insalato's interest was piqued in 2014 when membership was renewed at Surfaces, and the company received an invitation to visit the Schluter facility as part of a joint workshop with NTCA.
"The trip was educational, but I was so impressed with the dedication of all the NTCA members there and how well they functioned with a large organization like Schluter," Insalato said. "It made sense to me that if Schluter thinks this highly of our organization, I should listen and learn as much as possible. My company and our employees can only benefit from this. Later that year I was nominated and received the position as Regional Director of Region 5 and now serve on our Board of Directors."
The emphasis on standards that Insalato has experienced with NTCA has had a positive effect on his relationship with his installers.
"Since founding the business and training the employees in all facets of flooring and remodeling, everything was always based on MY standards," he said. Since joining the NTCA – learning about CTEF, and meeting CTEF's Scott Carothers – the tile and stone installation standards are now based on industry standards taught by NTCA, TCNA and the CTI and ACT programs. They provide the knowledge and I provide the execution. The ability to perform your job as a tilesetter knowing you are doing your job correctly is vital to the mission statement a company can set."
Insalato also connects with the industry at different events. "We always attend Surfaces because of our sales and installation of all flooring," he said. "We have attended Coverings for four of the past seven years. We attended our first Total Solutions Plus [in 2015] and found the networking extremely useful."
In conclusion, Insalato explained his passion is teaching, and this is reflected in his business.
"To share with someone how you designed, and then convince the client that this is the design for them, is exciting," he said. "To then be in the field and actually build and fabricate that design with your employees and explain not only the technical, but the color and texture elements that are in play to complete the room – whether it's simple or stunning – is a feeling you want over and over. It's addicting and you want to share it with everyone."