American Olean's fabric-inspired ColorBodyTM porcelain tile infuses American Airlines structure with class, durability and confidence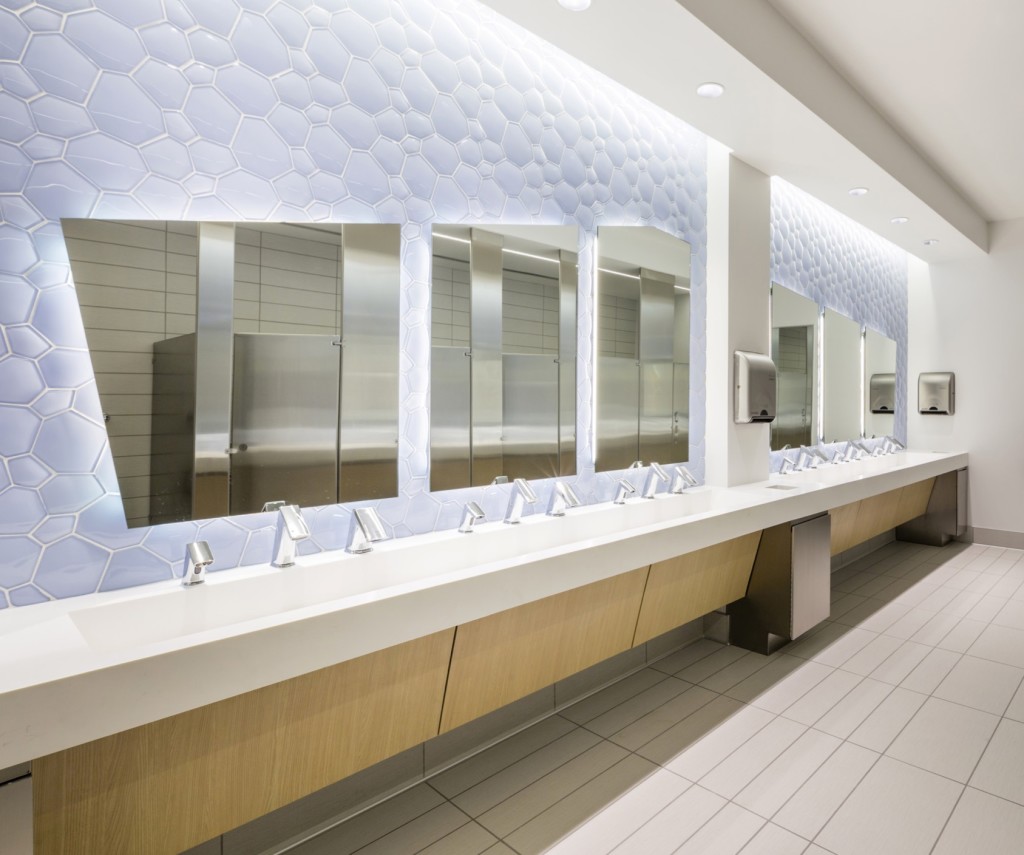 In September 2015, American Airlines unveiled its new Integrated Operations Center, a company hub where more than 1,400 employees oversee the daily operations of  the world's largest commercial airlines. Located in Fort Worth, Texas, The Robert W. Baker Integrated Operations Center (IOC) is the first new structure built on American Airline's campus in more than 20 years. And through innovative products from industry-leading brands like American Olean, coupled with thoughtful design choices based on employee experience and structural needs, the IOC is setting a new standard in modern aviation workplace design.
Design challenge
In 2013, American Airlines announced plans to merge with US Airways. With that growth came a challenge for the design team from Corgan Associates, Inc., a global architecture and design firm, to develop a solution for the space. The company had doubled its operations and outgrew the existing IOC location. Corgan looked at several different options to expand the existing building, and found that nothing worked for the landlocked structure. With operations as the top priority for American, the decision was made to invest in a completely new building to accommodate all of the new employees in a comfortable, state-of-the-art work environment.
Timeline
Once the project kicked off in June 2014, Corgan was tasked with a new set of challenges. Because the IOC houses flight dispatch, maintenance operation control, air traffic control, crew scheduling, customer service and other important operational departments, the team had to work on an aggressive, one-year timeline to enable American and US Airways to begin to function as one airline with no disruption.
Product Selection
The IOC operates 24 hours, seven days a week and was designed to withstand winds of an EF3 tornado. As such, durability was a major factor in product selection. Given the project timeline, Corgan had to quickly pick finishes with a reputation they could trust. Because of their previous work with the company, they considered American Olean the indisputable brand of choice when it comes to excellence and relevancy in both form and function. Known and trusted nearly a century for its incomparable commercial heritage and expertise, American Olean promises outstanding tile and stone products, and unsurpassed service and distribution.
American Olean's Infusion™ ColorBody™ Porcelain was a product Corgan selected with total confidence for the IOC restrooms. It is a product other Corgan design teams previously used with great success and dependable service, so they knew it would install well and look beautiful.
The past IOC facility was gray, neutral and "corporate," so the design team was excited to breathe new life into the space, including their restrooms. There are two sets of restrooms per floor (eight total) with uniform design across each. According to Christy Poindexter, senior associate at Corgan, the design goal for the IOC restrooms was to create a space that was "spa-like, peaceful, upscale, durable and timeless," she said.  Infusion helped them achieve this with unmistakable fabric visuals and size options.
Corgan had a unique vision that came to life with Infusion's modular tile that promote patterns using multiple sizes, and Spectra Contract Flooring of Carrollton, Texas, took the lead in making this vision a reality. In today's busy commercial environment, Spectra understands time is critical. Their professionals are available 24 hours a day, seven days a week, which was helpful to prevent interruption in the IOC daily operations.
The Corgan team treated the floors and walls as one continuous pattern for visual connectivity using all available sizes (24"x24", 12"x24" and 6"x24") in White Fabric (IF50).  To create a gradient effect, they began with a band of 24"x24" large format tiles in the center, followed by 12"x24" and finished with a few rows of 6"x24" that continued up the wall. "This approach gave us the opportunity to make the space beautifully monochromatic and timeless," said Marie Durrett, project interior designer with Corgan.
Coefficient of friction was another important factor taken into consideration when selecting tile for the restrooms since a measurement of .42 wet (or greater) is the new standard to look for when specifying products for commercial applications. "We never want a tile to even slightly appear slippery on the floor," Poindexter noted, "so Infusion's performance characteristics and matte finish were important to us."
Corgan also worked closely with the American Airline's maintenance team to select the tile finishes and grout. They wanted to be sure the team was comfortable with the product since they are responsible for upkeep. Infusion offers a clean appearance, and according to IOC guests, has held up beautifully.
While the tile helps showcase and finish the space, Corgan incorporated several cutting-edge restroom design concepts into the layout. Highlights include a trough sink concept that's new to American Airlines and prevents water spills on counters and floors. Each restroom also features automated features to reduce paper and water waste. The team added a shower room in each first floor bathroom to accommodate employees in American's "24/7" culture.
Through a monumental feat, the IOC updates were completed in July 2015. Today, it sets a standard for the rest of the renovation projects going on at American Airlines in terms of restroom design. In fact, the Corgan team has been asked to share design and product specs for potential use on other campus renovations, a testament to the thoughtful design choices that are positively enhancing the employee experience today.