Showers Systems – TECH 2015


Shower systems are streamlining the installation of showers and steam showers with a range of developments such as: curbless/barrier-free systems for accessibility, flexibility and style; pre-formed components for speed of installation and shower integrity; fool-proof waterproofing and aesthetic advances like linear and wall drains.
For instance, Fin Pan's Jeff Ketterer pointed out that many shower designs now offer curb…less appeal! "Many homeowners are choosing to remove the bathtub and replace it with walk-in showers that create a spa-like atmosphere. The entrance in a curbless shower is flat and flush with the bathroom floor, leaving a smooth transition into and out of the shower. The combination of style and accessibility provides greater value to a bathroom."
While a fashion statement, curbless showers also offer practical advantages for disabled or aging populations. Ketterer said that according to the Administration on Aging, "For the next 18 years, baby-boomers will be turning 65 at a rate of 10,000 per day. Of these, 79% report the ability to age-in-place and live independently as their main concern." The availability of "new and innovative curbless shower systems that require no structural modifications to the floor joists as was required in the past can meet everyone's needs by offering style, accessibility and unlimited design options at every stage of life," Ketterer said.
Following are a sampling of technological directions in shower systems for contractors to consider.  – Lesley Goddin

Lisa Shaffer, president
Fin Pan
www.finpan.com
Barrier-free showers are continuing as not only a trend for an aging population but a fashion statement and design element. Having the ability to build a barrier-free shower in any configuration is most popular. The marriage of traditional methods and new technology continues its push into the market. This is being driven by the building code that recently reiterated that joists are not to be modified more than 1/4" unless a structural engineer is consulted. A contractor assumes the structural liability if they compromise the joist structure without engineering consultation. In many homes that were built with engineered joists in the 2000s, the addition of a barrier-free shower or even traditional mud pan was prohibited by the engineered joist. New methods have made installation of shower products possible in engineered joist construction.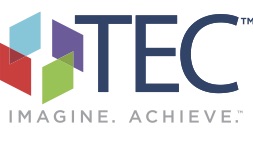 Tom Plaskota,
technical support manager
H.B. Fuller Construction Products
www.tecspecialty.com
Luxurious bathrooms have been a residential trend, but now owners of larger multi-unit buildings are also demanding custom-looking showers. Spa-like bathrooms have recently become more prominent in institutional, healthcare, resort, spa and pool facilities. Owners of commercial and residential spaces rely on the contractor to help them create these spa-like sanctuaries. These rooms have to blend form and function, combining a shower's necessary utility with the look and feel of a spa.
However, in order to keep profits up, contractors need to work efficiently – particularly on multi-unit jobs. Preformed products – like niches, shower seats and curbs – help contractors meet the demands of this design trend.
Preformed components are consistent and easy to install – great for fast multi-unit installations. Look for preformed components that integrate seamlessly with existing surface prep solutions, mortar, tile and grout. For protection against mold and mildew, choose a product that comes coated with an IAPMO- approved, waterproof membrane that meets ANSI A118.10. Preformed components are a great way for tile installers to add a design element that fits with today's building trends.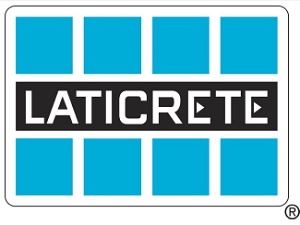 Sean Boyle,
director Marketing & Product Management
LATICRETE
www.laticrete.com
Barrier-free shower installations are gaining popularity for their clean-looking tile lines and zero-entry profiles. In order to properly execute these installations without the benefit of a traditional curb placed at the shower entry, high-tech installation materials and drains can be used.
Possibly the best current installation methods/options for barrier-free shower applications are the Tile Council of North America's (TCNA) B-422-14 method or a modified version of B-415-14. This installation method provides a complete waterproof connection between the waterproofing membrane and the drain placed at the surface of the tile installation – which minimizes the height of the overall installation. Therefore, there is no need for the full, bulky 1-1/4" to 2" (31mm to 50mm) thick mortar bed and curb that are required in traditional shower pan installations.
This barrier-free installation type places the waterproofing membrane underneath the tile or stone finish versus the bottom of the mortar bed in traditional shower-pan applications. These methods allow water to shed right at the surface through an integrated bonding flange type drain system or a linear drain with a bonding lip, which receives the waterproofing membrane.
The slope in the shower assembly can be started from a much lower profile while still maintaining a 1/4" per foot (6mm per 300mm) slope. These assemblies provide a dramatic improvement when compared to the traditional, bulky, thick-bed mortar installation systems.

Richard Maurer,
director of marketing
Noble Company
www.noblecompany.com
In response to a rapidly escalating growth in demand, several companies have introduced linear drains. These drains have been popular in Europe for years because they complement contemporary and barrier-free designs. The single slope created with a linear drain allows for the use of large format tiles that are ideal for contemporary, barrier-free showers favored by designers.
A number of linear drains are available. Some are systems that include waterproofing membranes. Other manufacturers offer only the drain and suggest options for waterproofing.
Things you should consider when selecting a drain include:
Does the drain meet code requirements (not all do?)
Does it assure a secure, watertight connection between the waterproofing membrane and the drain?
Does it offer the aesthetics desired? Because in the end, the strainer is all you will see.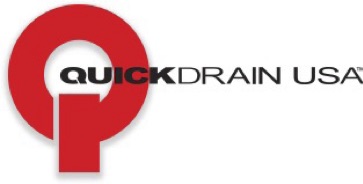 Josef Erlebach,
vice president Tech Support
Quick Drain USA
www.quickdrainusa.com
The trends in our sector of the industry are very simple and clear:
1. Curbless showers mean true zero entry
2. Linear drains spanning the full width of the shower without dead spots on the ends of the drains
3. Use of single-pitch shower pans made of 100% recycled materials
4. Integration with shower-pan accessories and waterproofing for speed and ease of installation.
5. A new trend is moving the drain into the wall instead of floor.
CONTRACTOR PERSPECTIVE: 
SHOWER SYSTEM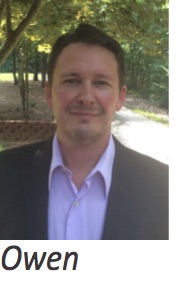 Shower systems/drain systems seem to be popular with architects in hotels now and I imagine the trend will continue to grow. These shower systems come complete with pre-sloped shower pans, pre-formed curbs, waterproofing membrane, corners, seam rolls, etc.  
These are now being specified because they are a more efficient/effective method than the traditional way that entailed building the curb out of bricks, etc. However, it's still necessary to have skilled tradespeople who have been trained to install these systems. Problems can still occur and skilled tradespeople best know how to address them. 
For example, the assumption is that since you simply install the pre-slope onto the substrate, and because the pre-slope already has a pitch of 1/8" per foot to the drain, you will have guaranteed drainage, no worries.  Well, there could be a worry if the slab the installer was given is out of level 1/4" per foot in the opposite direction of the drain and this is not addressed. Due to field imperfections like this, there will always be the need for a trained craftsperson to do the install. Skilled tile craftspeople have the necessary experience and knowledge, and know what to look for and how to deal with circumstances like this.
Rod Owen
C.C. Owen Tile Company, Inc.
Jonesboro, Ga.
www.ccowentile.com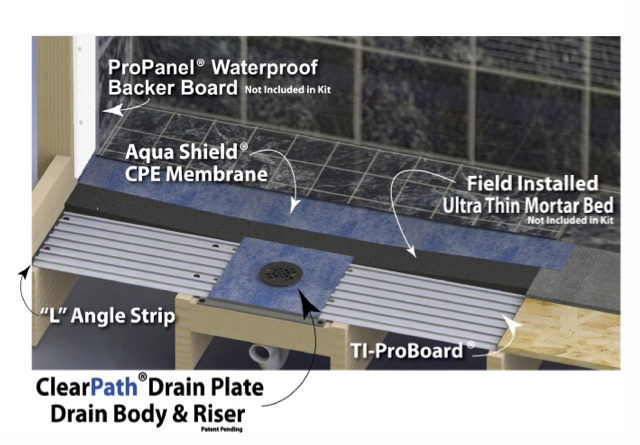 Fin Pan, Inc., manufacturer of tile backer boards and PreFormed® ready-to-tile products, has recently introduced the ClearPath® Curbless Shower Pan System. ClearPath is an innovative way to construct a barrier-free shower pan that requires no structural modifications to the existing floor joists. It's ideal for remodeling and new construction and affords homeowners near limitless design options. The foundation of ClearPath starts with the ClearPath Drain Plate and TI-ProBoard®. The drain plate comes with integrated drain assembly, waterproofing mat and is pre-pitched for proper sloping.TI-ProBoard is a composite structural underlayment that offers the ability to install ClearPath directly on top of the floor joists. ClearPath is available in four shower kits and includes drain plate, TI-ProBoard, perimeter edge protector, fasteners and CP waterproofing membrane. When used in conjunction with Util-A-Crete® or ProTEC® Cement Backer Board or ProPanel® Lightweight Waterproof Backer Board, Fin Pan offers a Lifetime Limited Warranty. www.finpan.com.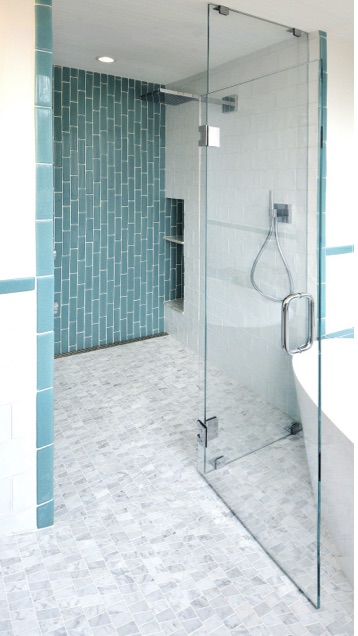 LATICRETE HYDRO BAN® Barrier Free Shower System Products provide a wide array of options to help you design and construct a barrier-free shower. The Linear Drains and Bonding Flange Drains can be installed with 3701 Fortified Mortar to form a gentle slope into the shower for a safe, easy access or use the Pre-Sloped Shower Pan and Ramp combination to save time and money. The Linear Drain and Linear Pre-Sloped Shower Pan combination can be installed with the drain at the shower entry or the far wall, over the current substrate or recessed substrate to form a shower utilizing large format tile and stone. HYDRO BAN Barrier Free Shower System Products offer
Barrier-free shower options
Bonding flange or linear drains
Pre-Sloped Shower Pans, Ramp, waterproof and ready to tile
Installation over substrate or recessed floor
Designed for safety, comfort, and easy access
www.laticrete.com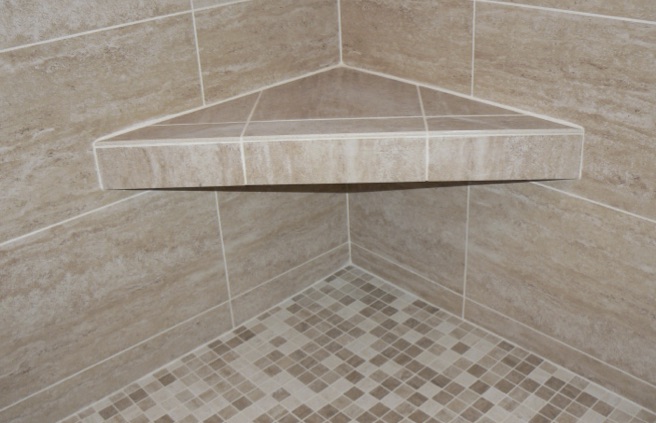 Mark E. Industries offers the GOOF PROOF SHOWER SEAT, a heavy-duty, stay-in-place, molded plastic form that is easily installed, and can be tiled the same day. The Shower Seat is a standard 30″ wide, and has guide marks on the top surface to make it easy to trim the seat to 24″ wide. The front face has a 3/16″ wide tile support ledge for easier tile alignment and full tile support. Two level vials are supplied to indicate the proper minimum water drainage slope of 1/4″ per 12″ run. Capacity is 400 lbs. Screws, anchors and shims (to adjust for out-of-square walls, if necessary) and illustrated installation instructions are included. Weighs 7-1/2 lbs. www.goofproofshowers.com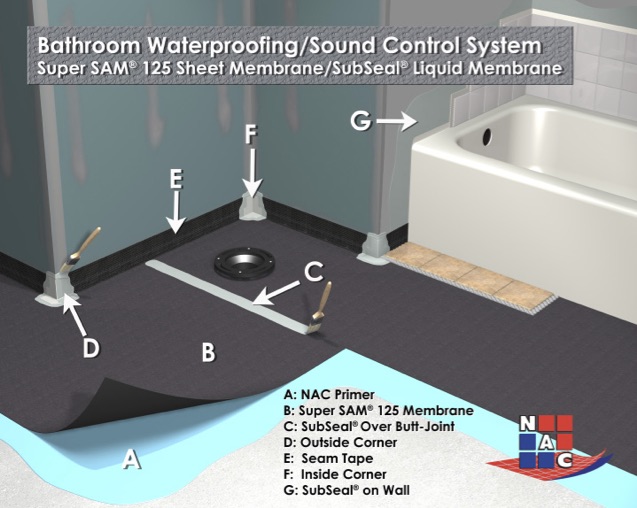 NAC Products offers the Extreme Bathroom System. This system provides a variety of bathroom installation options that bring NAC waterproofing and sound-control membrane systems together for surfaces that require waterproofing with impact and audible sound reduction. Drawings showcasing the systems can be accessed at www.nacproducts.com, under the Technical pull-down tab; select Membrane System Images. Six images show different system options including, SAM® 3, Super SAM® 125, Strataflex and ECB® membranes combining with SubSeal® Liquid. In addition, there is a drawing of the Extreme Deck Waterproofing System (The drawings are not instructions on how to install the system, but a visual representation of the products involved for various membrane system options for bathrooms). An added benefit of the Extreme Bathroom System, is that the NAC sheet membranes also provide up to 3/8" crack isolation protection. www.nacproducts.com
Noble Company offers the FreeStyle Linear Drain™, which provides a highly secure drain and waterproofing combination. A clamping collar connects NobleSeal waterproofing membrane to the drain and the waste pipe is solvent-welded into the drain. FreeStyle Linear Drains have an internal slope making installation easier. There is no shimming or leveling required. FreeStyle Linear Drains are listed for shower waterproofing by national plumbing code authorities. A low-profile and high drainage capacity (36 GPM) make FreeStyle ideal for barrier-free applications. Install FreeStyle at the wall, the exit, or wherever the design requires. Available in seven widths from 24" to 60" with brushed stainless or tile-top strainers.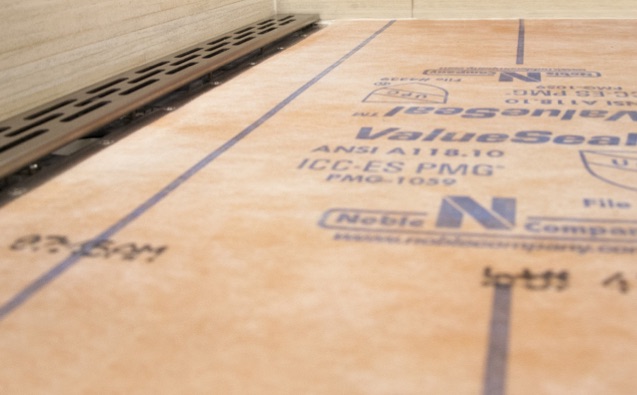 Noble also introduced ValueSeal in March 2015. It's made from PE and only 16 mils thick. ValueSeal is easy to crease and form. It is bonded and seamed with latex-modified thin-set. Available in 6' wide sheets to minimize seams or 3' widths as well, ValueSeal is also translucent so bonding and seaming coverage can be visually confirmed. Noble is a quality leader for decades, with quality products and support. FreeStyle Linear Drains and ValueSeal are all made in the USA. www.noblecompany.com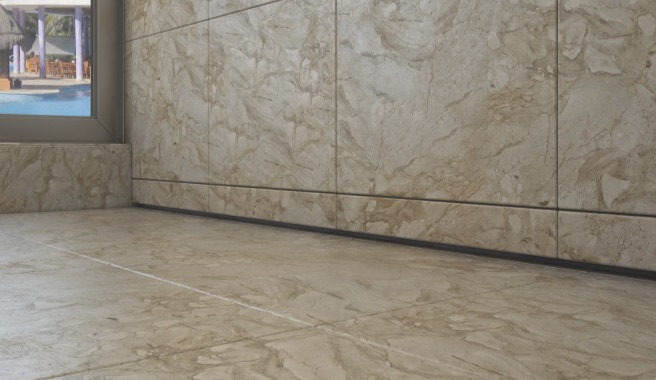 Quick Drain USA has introduced a brand new concept in the evolution of shower drains: the elegant WallDrain system that takes the idea of linear drains to a logical conclusion -– no drain in the shower floor at all! This allows sloping of the whole shower pan in one direction to eliminate any grates and covers to step on or clean. This simple idea is mostly used in wet rooms and curbless showers. The system has full height, depth and length adjustability built in for ease of installation and perfect look every time.
www.quickdrainusa.com
USG Durock™ Brand Shower System is a fully bonded waterproofing system for tiled shower installations designed to control moisture independently of the tile covering, while creating a solid base for a long-lasting shower. Ideal for both new construction and repair or remodel projects, the USG Durock Brand Shower System is highly adaptable to job-site conditions, is barrier-free and offers a huge selection of grate options and superior grate finishes. The USG DurockBrand Shower System comes with the option of installing a custom tray program, which allows for a limitless number of shower configurations by using optional benches and niches that deliver added flexibility for a fully custom shower. This custom tray program is exclusive to USG. www.usg.com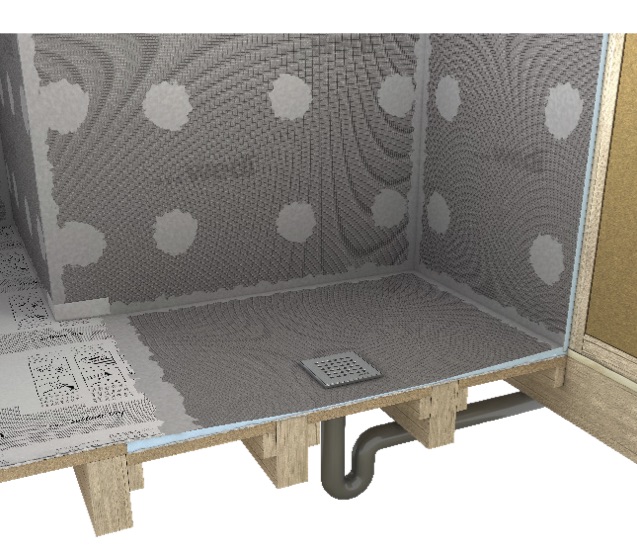 wedi recently launched the lightweight, waterproof XPS foam core Fundo Ligno shower system for easy curbless and floor-even shower floor installations without structural complications. The 3/4" thin-profile, sloped shower floor system with waterproof XPS foam core and a cement-based surface is ready to tile, providing a fast and flush curbless installation into a subfloor assembly without cutting into floor joists. Installation is easy and strong because you maintain the structural subfloor panels installed between floor joists under the shower system. These new systems are designed to interlock and work with other XPS underlayment products: building panels, seats and benches, niches and many more accessories that complete the shower installation and waterproofing system. These installations are fast, modular, clean and customizable. www.wedi.com