Mortars – TECH 2015


The biggest thing – literally – in our industry these days is large thin tiles. This technology is ramping up, and its possibilities are endless.
But to support these large thin tiles, proper coverage is absolutely essential. Development of large-and-heavy-tile mortar to replace the misnamed "medium-bed mortar" and ongoing refinements of these products are keeping pace with the refinements of the finishing products themselves. If you're working with large-format and thin porcelain tiles, be sure to acquaint yourself with these new mortar developments, presented below.  – Lesley Goddin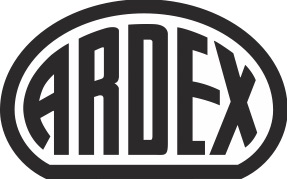 Mark Pennine,
ARDEX Technical manager,
Tile and Stone
www.ardexamericas.com
While they have been popular in Europe for several years, the North American tile industry has embraced the mounting popularity of very large, thin tile installations. Setting material manufacturers have had to develop mortars with advanced technologies such as long open time, great sag resistance, higher flexibility and longer pot life. The development of proper substrate preparation materials for walls and floors is also paramount for the success of very large and thin tile panels. High-flow self-leveling products that produce supremely flat floors are a necessity for floor applications. Wall and floor smoothing and screeding mortars with rapid drying properties produce plumb, flat walls and level floors keeping installations on schedule.

Steve Taylor, director of
Architecture and Technical Marketing
Custom Building Products
www.custombuildingproducts.com
With the ever increasing size of field tile, traditional mortars simply won't do. These large and heavy tiles require the use of a modified dry-set mortar that can support the increased weight. From wood-look planks to 15" or more tile options, a large format tile mortar must be selected to minimize lippage and maintain a smooth, level tile installation. Tile contractors, design professionals and end users should always discuss the available options and the aesthetic as well as the durability implications of mortar selection on the overall project.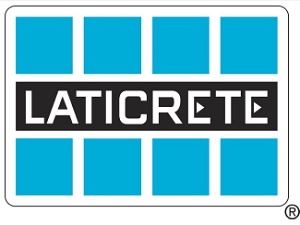 Sean Boyle, director
Marketing & Product Management
LATICRETE
www.laticrete.com
Maximum or 100% coverage is typically required for reduced-thickness porcelain tiles. A high-performance, latex-fortified portland cement thin-set or medium-bed mortar can be used. Using the appropriate specialty notched trowel along with proper troweling techniques and back-buttering will make achieving complete coverage easier. Mechanical edge-leveling systems can help to reduce lippage at the edges and corners. Finally, always remember to follow standard industry guidelines for movement joints.

Brian Pistulka
MAPEI business manager
for Tile & Stone Installations
www.mapei.com
Thin tile and large thin porcelain tiles are trending in the tile and stone industry, resulting in technology innovation from leading installation manufacturers.
As the thin tile market grows with more manufacturers offering products and promoting to the market, there is a growing wave of designers, architects, distributors and contractors seeing an impact upon their business. Now from an installation perspective the trend is significant – contractors are challenged to learn new methods, procedures and team-working concepts to run such jobs.
As more contractors and manufacturers have gained exposure to the thin tile business, additional challenges have been identified to improve productivity and save labor efforts when working with larger units, while improving installation products to address challenges unique to large thin porcelain tiles.
Some of these challenges are the need for easier- to-spread mortars, mortars that provide better wet-out transfer properties, mortars with lower water demands, lighter-weight mortars, mortars with longer open or working times, and mortars with more flexibility .

Alan Kin
sales and technical
Texrite
www.texrite.com
The increased selection of larger-format tile sizes greater than 15" tiles and larger will create a shift in bonding mortar selection to "large-and-heavy-tile" LHT mortars. The increase in dimensional length of these tiles as plank, larger-format and thin porcelain tiles requires more mortar depth underneath them and the substrate.
Both the customer and installer want the most visually-flat tile installation, so they need to be aware of what truly changed about their jobsite/installation. Those changes lie beneath the tile and substrate as:
Increases in weight of individual tile units
Increased surface variation that the bonding mortars have to fill between the tile and substrate (typically 1/4" to 1/2" and up to 3/4" in setting thickness)
The critical ability to reduce "tile edge to tile edge" lippage
The LHT mortars (formerly referred as medium-bed mortars) have been formulated to withstand movement of heavier weighted tile while in the soft-paste state of installation. The products have an increased "grab" or surface tackiness for larger-format tiles. One of the most important characteristics of these mortars is shrinkage compensation that remains more volume true and resists shrinkage upon full hydration and cure. Lippage on horizontal application and non-sag movement of vertical application properties are available from the mortar manufacturers.
As large tile (≥ 15" and/or plank tile) become requested, LHT mortars will be needed to properly set/bond these types of tiles. Although there is no direct ANSI Installation LHT mortars method to reference, the mortar manufacturers have had the foresight to have the product developed and bagged suitable for these installations.
Other resources from the mortar manufacturers would include leveling/re-surfacer products to flatten the surface or re-direct slope with cementitious underlayments. Large and heavy tiles need to be installed with these types of LHT mortars. The emergence and popularity of porcelain tiles within recent history have spurred the development and use of latex-polymer "thinset" mortars. Our industry can now expect the selection and usage of LHT mortars to become a more common part of the installation resources that were once reserved for large commercial jobsites. Now, LHT mortars will become common for both commercial and residential use in the marketplace.

Curt Rapp, CEO
Tile Doctor
www.tiledoctor.com
I have toured thin tile plants, from the very first – even before the outside façade was finished on their building – to one of the newest lines just a few weeks back.
We have seen many advancements in the thin tile manufacturing process and the products coming out of the lines. The rapid interest gaining traction really feels more like an explosion to me, and the possibilities are certainly staggering for us as an industry to grow our business.
In the absence of a published standard anywhere in the world for the installation of these tiles, the questions also are as staggering as the opportunities. For certain, on a tile that can cost up to 5 to 6 times a traditional tile, the need for high-quality adhesives is a must, and this is the last place you should consider skimping. Adhesives should set up properly and bond well to large-unit porcelain tile slabs. We have so much at stake. The acceptance of this product in the market and using the proper installation products can set the destiny in motion for success or failure long-term. What we do not need is to have failures as we grow and discover the possibilities for this product's use. Adhesives with the ability to set up under larger-format tiles without any requirement for drying – what we call Reaction Adhesives – bond with great strength and set up because of their chemistry regardless of temperature, humidity and many other factors that could be adverse to the installation and the jobsite conditions.
If you had a blank slate to write out what the optimal adhesive properties would be for all thin tile installations, you'd probably ask for the following: suitable for exterior and extreme conditions; non-sag; high bond strength; waterproof; chemical-resistant; some flexural properties; a predictable setting time; suitable for many, if not all, substrates; and one that provides an installation process that is predictable for installers.
Custom Building Products has created VersaBond®-LFT for large-format tile as a complementary product to VersaBond, CUSTOM's popular everyday thin-set mortar. VersaBond-LFT is designed for use in most standard large-format tile floor installations with porcelain, ceramic or natural stone 15" or greater on any side. The product's non-slump formula can be used as a thin-set or medium-bed (dry-set) mortar up to 3/4" on floors, and it bonds well to concrete, cement backerboards such as WonderBoard® Lite, as well as plywood. VersaBond-LFT, which meets the requirements of ANSI A118.4 and A118.11, is available in white and gray.
www.custombuildingproducts.com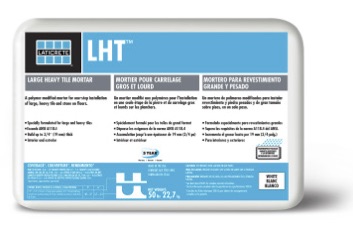 LATICRETE LHT™ is a polymer-modified large-and-heavy tile mortar specifically formulated to provide a one-step installation for large-format ceramic tile, porcelain tile, marble and stone on floors. LHT features excellent adhesion with a superior bond that meets the demands of challenging installations involving large and/or heavy tile. LHT offers multiple utility with excellent medium bed/large heavy tile performance, and can be applied 3/4" (19 mm) thick without shrinkage. The smooth and creamy consistency of this easy-to-trowel mortar assures proper coverage on both the substrate and the tile or stone. Perfect for interior and exterior floor installations, LHT meets or exceeds the ANSI A118.1 and ANSI A118.4 standards. Available in grey and white, LHT is suitable for use over many substrates. www.laticrete.com.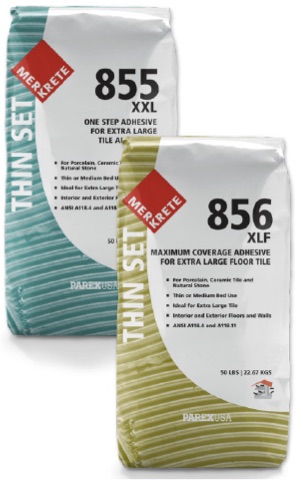 Merkrete offers large-tile setting solutions for both walls and floors, supporting the development of larger size tiles that emulate wood or natural stone. Merkrete has answered this trend in eXtra Large Floor tiles with its 855 XXL and 856 XLF thin-set mortars. Merkrete has been one of the first to offer these solutions so the research and quality has been there for years. 855 XXL has unique properties and can be used as a thin-set or a large-and-heavy tile setting adhesive for installing large-format, ceramic, porcelain and irregular thickness stone without the need of back buttering the tile. 856 XLF has exceptional fluid properties which make it an ideal adhesive for installing standard to ultra-thin, extra-large tile and stone over a variety of substrates including tile-over-tile applications. www.merkrete.com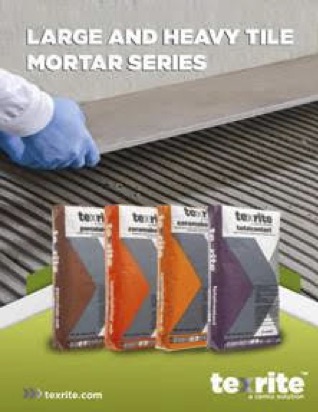 Texrite has developed four different options to choose from when installing large-and-heavy tiles. As tile and stone gets bigger and heavier, installers need different solutions to reduce the chance of lippage and ensure greater mortar contact. Texrite has developed a new line of large-and-heavy tile (LHT) mortars to help you with every kind of large-format tile and stone installation. Whether it's a red body tile, porcelain or heavy stone and regardless of the surface on which you need to install it, Texrite has a product to make sure it is rite! www.texrite.com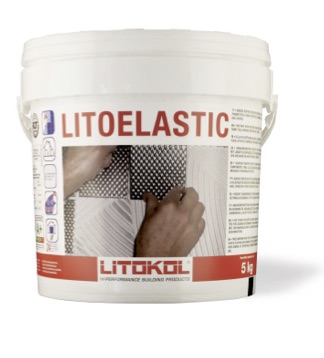 Tile Doctor offers Litoelastic adhesive, a two-component reactive multi-purpose adhesive suitable for indoor and outdoor applications on floors and walls even in severe usage conditions such as swimming pools, heavily trafficked floors and tiles exposed to high temperature fluctuations. It's suitable for bonding various materials even on non-traditional substrates such as metal, fiberglass, PVC, and linoleum and is perfect for all types of ceramic tiles, thin porcelain slabs with and without reinforcement, glass and ceramic mosaics. With high elasticity and excellent water resistance, Litoelastic is suitable for simultaneous waterproofing and laying ceramic tiles or mosaics in shower stalls or wet interior environments. It can be used with natural stones, even unstable ones such as green marble and slate, and has a very low emission of volatile organic compounds. www.tiledoctor.com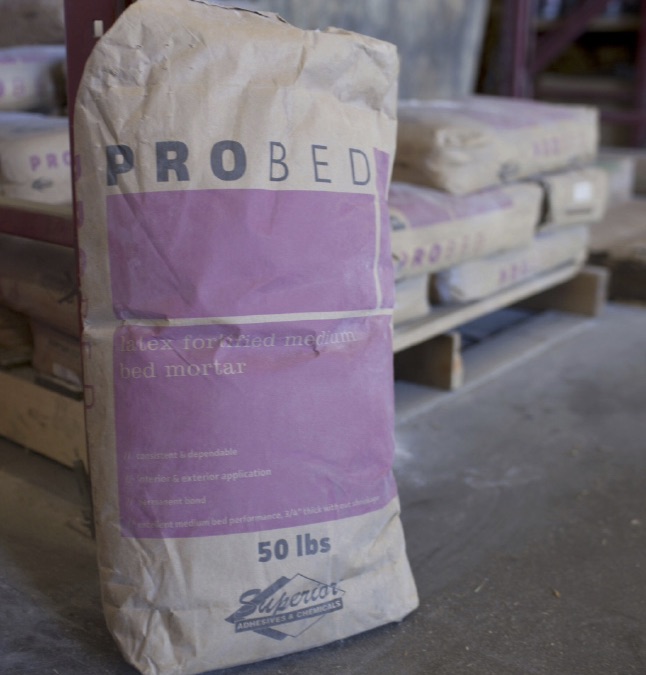 The Tile Shop introduces a new large-format tile (LFT) thinset as part of its Superior Adhesives and Chemicals private label brand. Pro Bed thinset can hold a 3/4" rake, and helps the installer level a larger tile on planes that are not always completely flat. www.tileshop.com