NKBA awards "2015 Best Bath" to Allure Designs, LLC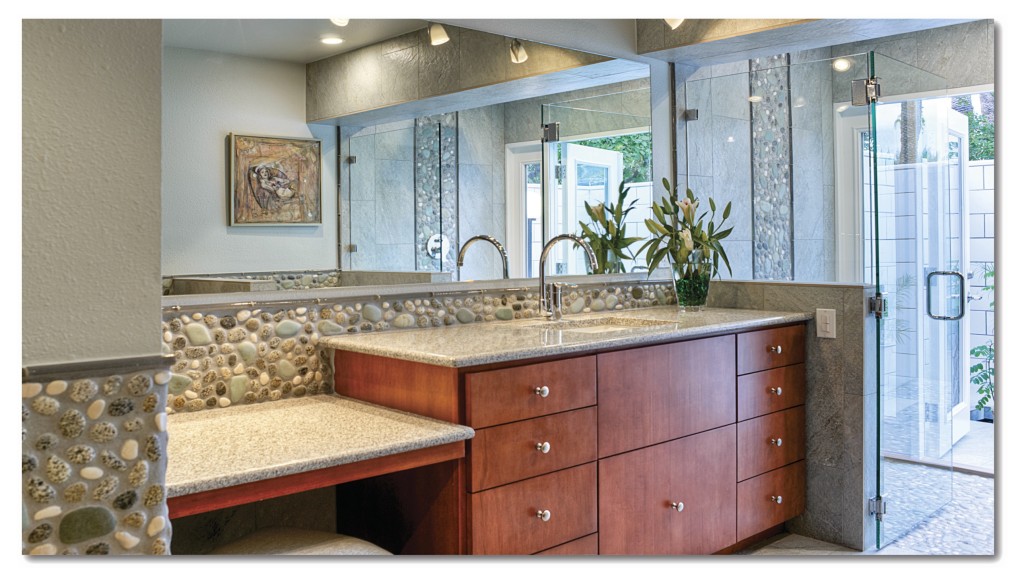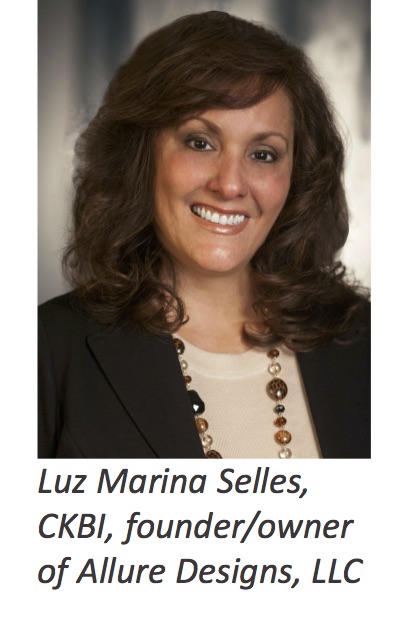 The National Kitchen and Bath Association has awarded its coveted "2015 Best Bath" to designer Luz Marina Selles, CKBI, founder/owner of Allure Designs, LLC (www.allureinteriordesigns.com) of Gilbert, Ariz., for a stunning master bath oasis in Phoenix, Ariz.
The inspiration for the award-winning project came from nature, Selles said. "Bringing all the possible elements of nature to my design was my goal. Blissful plants, beautiful river rocks, calming water, and open space were essential motifs in my aesthetic goals for the bathroom."
The 286-square-foot project prominently features Perfect Pebble Tile in the Bird's Egg Blend from Island Stone (www.islandstone.com.).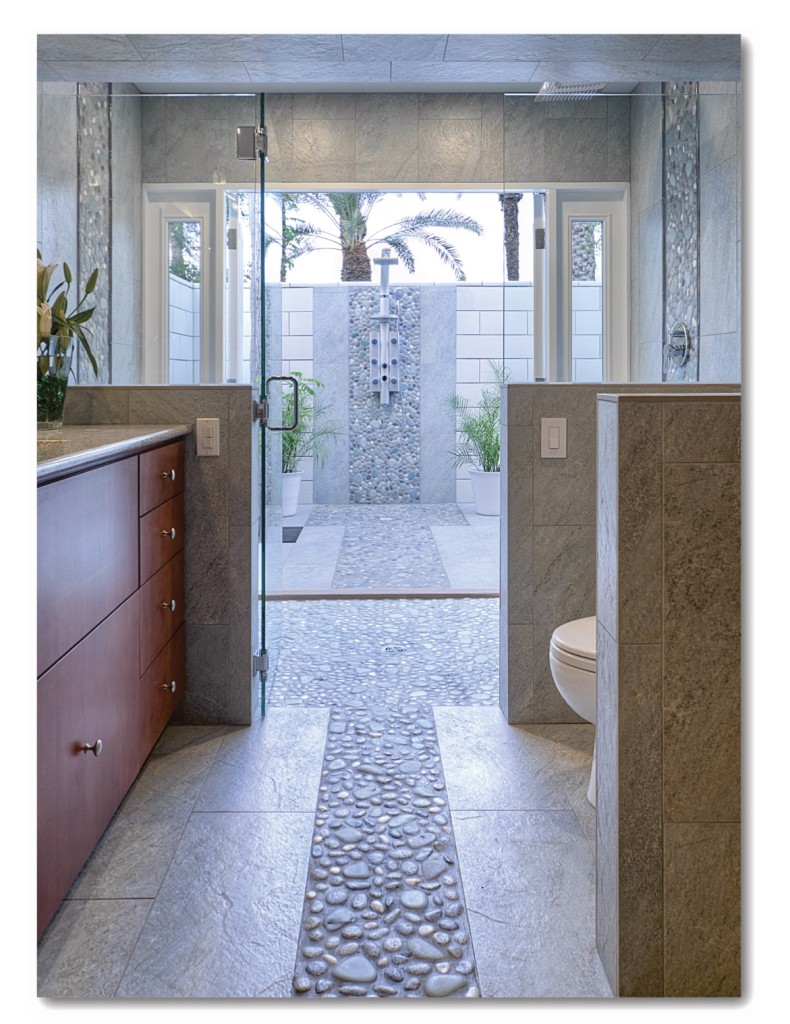 "I was looking for a design that would make my clients feel as if they were bathing amongst a beautiful river pebble bed," Selles said. "Thankfully, the pebble tile brought me all that I needed for my design. It is a natural stone and this gave the bathroom a nature-based appearance and a relaxing ambiance. "
Selles discovered the product in her local Daltile showroom. "The stone design caught the eye of my client, and when she pointed it out I knew it was the perfect choice," she said.
The Pebble Series is Island Stone's original and largest range of tiles, with stones gathered from worldwide locations, carefully hand-sorted for color, then laid into an exclusive interlocking format to create an easy-to-install tile. The soft appearance of Bird's Egg Blend Perfect Pebble Tile featuring "idyllic colors of green, gray, and white helped me bind together the rest of the aspects of my design," Selles said. "The unique sizes and flow of the pebbles complemented the nature-based design."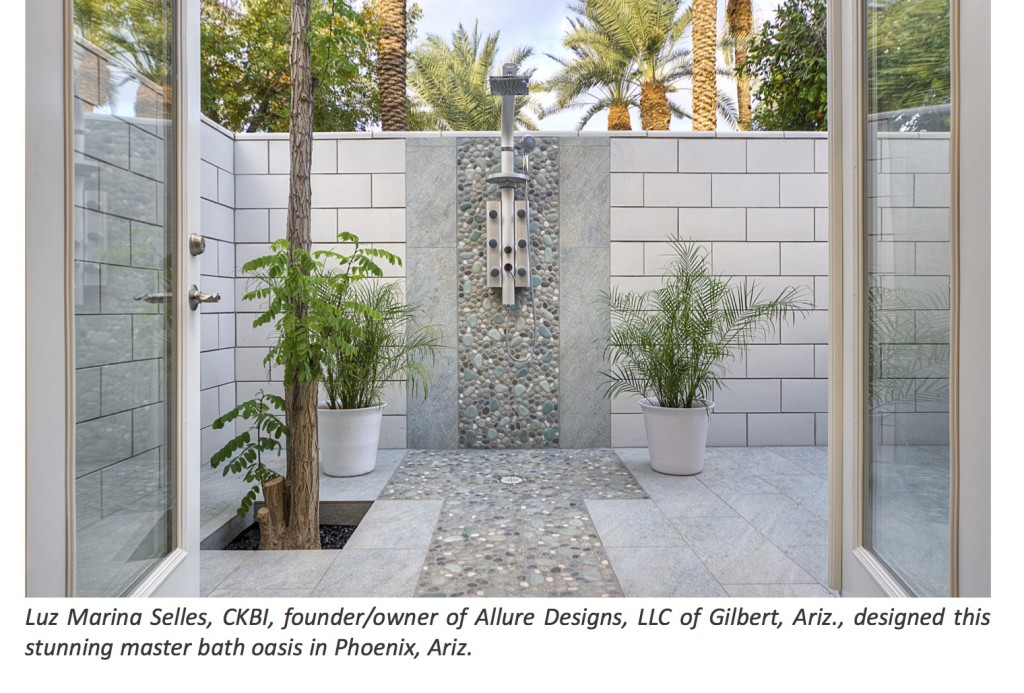 The Perfect Pebble Tile traces a path along the floor to a curbless, open-air shower, as well as on the vanity backsplash, walls and an outdoor bench. ELG's Quartz series 12˝ x 24˝ porcelain tile, in Sand – sourced from Tanner Materials Co., Phoenix – was installed on walls and floors in combination with the Perfect Pebble Tile. Arizona Tile's 7.75˝ x .75˝ Glass Dome Liners in Steel were used to frame the pebble stone. Glazed Astra-Glaze-SW+® masonry units in Snow White from Trenwyth Industries give a clean look to the exterior patio wall.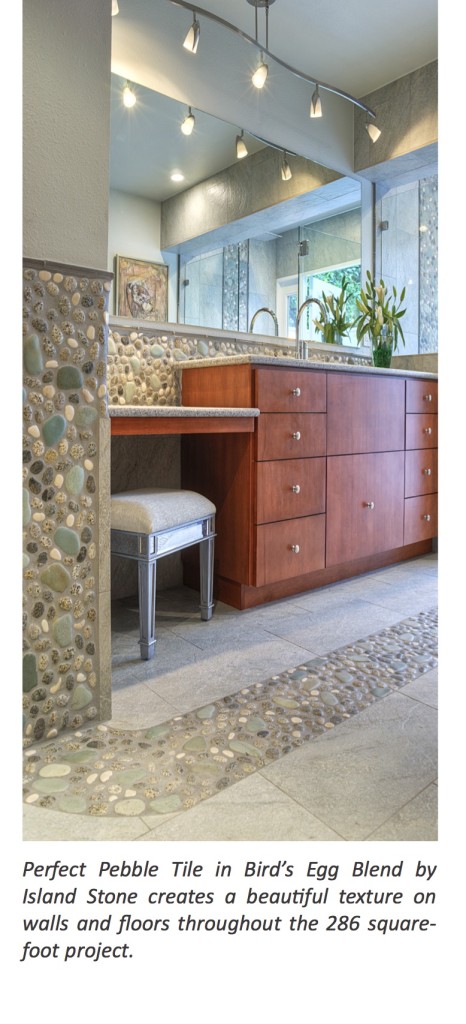 Allure Designs is an award-winning residential interior design firm that offers customized design services that run the gamut from large projects to small rooms that need refreshing, including bathroom remodeling and kitchen remodeling.
"We strive to achieve perfect synchronization of all the elements of design to create a pleasing display of harmony and unity, where beauty and functionality are essential parts to the success of your remodeling or renovation project," Selles said.