Coverings Opening Night Celebration showcases CID Awards winners and Rock Stars honorees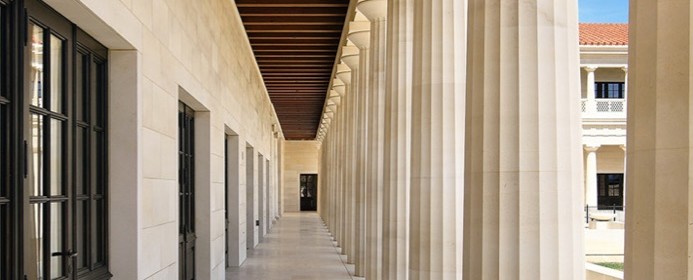 By Lesley Goddin
ORLANDO, Fla., – This year, Coverings updated its usual opening night awards program with a fast-paced presentation of the fourth annual Coverings Installation & Design (CID) Awards winners and the new Rock Stars program, celebrating emerging leaders in tile and stone under the age of 35. The Coverings Opening Night Celebration ceremony, sponsored by TileLetter and Contemporary Stone & Tile Design magazines, featured winner and honoree introductions by TileLetter publisher Bart Bettiga and editor Lesley Goddin as well as Contemporary Stone & Tile Design editor Jennifer Adams, followed by a reception in which guests mingled and conversed with award winners about their projects. Contemporary Stone & Tile Design publisher Alex Bachrach announced Best Booth awards: Saloni (Best in Show), Unicom Starker, Antolini and StonePeak Ceramics.
CID Awards
Fifteen outstanding tile and stone projects were recognized at the CID Awards, a program that honors stunning design and installation of tile and stone in residential, commercial, sustainable and international projects. Judges from Ceramics of Italy, the Tile Council of North America, Tile of Spain and National Tile Contractors Association evaluated nearly 150 submissions based on technical execution, unique material applications, and overall design and purpose, and awarded high honors to those projects demonstrating spectacular tile and stone applications. In total, $20,000 in prize money was awarded to the winning designers and installers
Two Grand Prize honors were awarded, each winner receiving $2,000 and a one-night hotel stay in Orlando during Coverings.
Tile Grand Prize – Hilton Hotel Rainbow Tower, Honolulu, Hawaii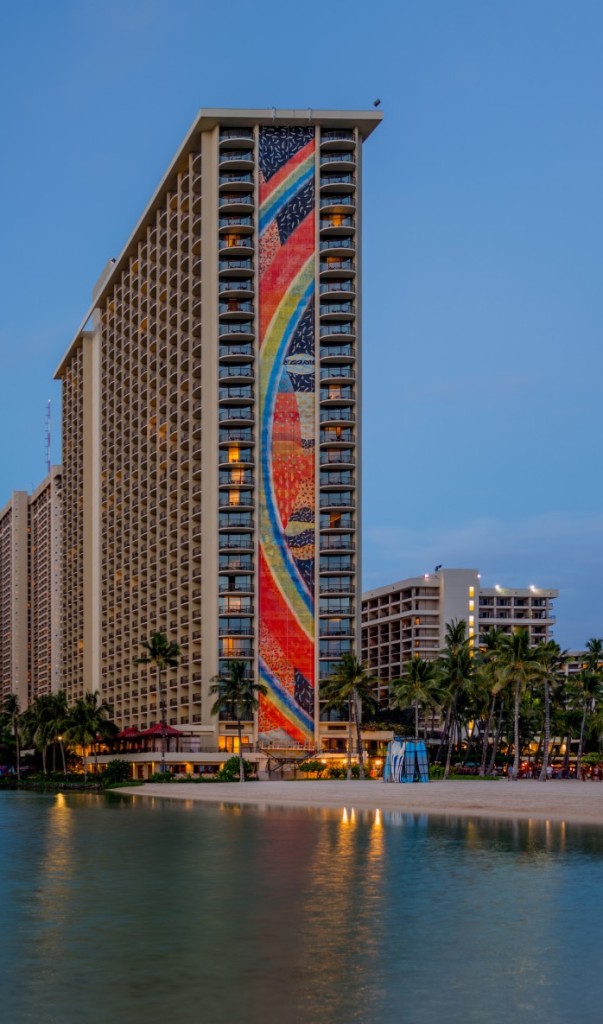 The Hilton Hotel Rainbow Tower, a noted Hawaiian landmark and 30-story tower, is covered by the world's tallest tile mosaic mural originally designed by artist Millard Sheets in 1968. In 2013, after years of deterioration, PROCON Consulting Architects Inc. – an affiliate NTCA member – and GSI Global Stone took on the process of demolishing, replacing and reconstructing the original design. During this process, more than 31,000 porcelain tiles were glazed using a digitally re-mastered industrial digital inkjet transfer and manufactured by H&R Johnson. The architects also utilized state-of-the-art FEA computer modeling technology during the design process, which factored in the wind speeds, weathering and the oceanfront stress the 275' tall murals would need to withstand to ensure optimal performance of the carefully specified materials. (For more information, see the March 2015 TileLetter cover story)
Stone Grand Prize – The Film Archive and Preservation Center in Santa Clarita, Calif.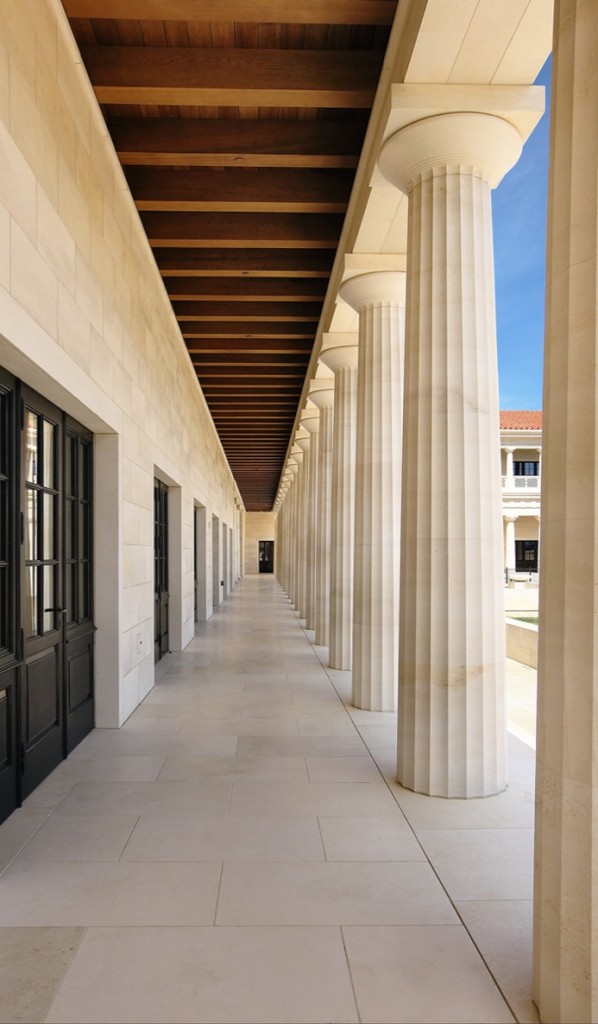 BAR Architects and Carnevale & Lohr partnered to design and construct the stone cladding of The Film Archive and Preservation Center. The project was comprised of the Collections Storage, a primarily underground structure, and the Stoa, inspired by ancient Greek stoas (covered public walkways or porticos, open at either end and lined with columns). The project's exterior consists of more than 104,800 sq. ft. of handset Belmonte and Fondola limestone sourced from Trani, Italy, as well as wood ceilings, terracotta roof tiles and bronze-clad doors.
The interior of the building, featuring architecture and motifs inspired by the Florentine monastery of San Marco, contains more than 11,000 ft. of carved Pietra Serena Stone flooring. In addition to the installer's intense commitment to the historic use of natural stone materials, the arduous project required the coordination of a variety of trade specialties, including concrete, waterproofing, insulating, framing and structural steel. To ensure the highest degree of accuracy, a 35-ft. tall model of the project was built in Italy, to showcase the selected stone and planned installation and construction methods before the complete build-out commenced in California.
The 2015 CID Awards recognized 13 other projects for exceptional work in tile and stone design and installation from around the world. Each of the below projects received a $1,000 cash prize for their remarkable achievements: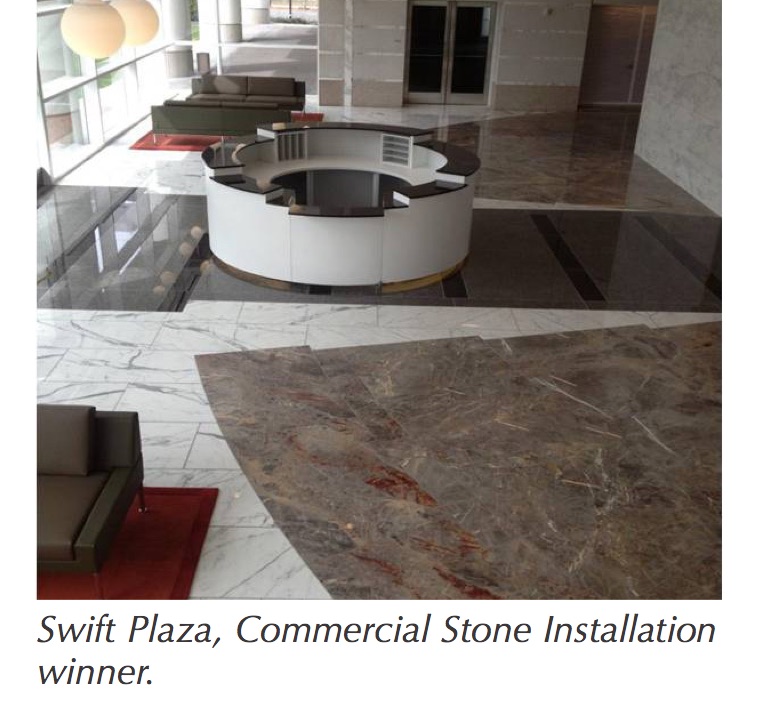 Commercial Stone Design: Multi-Denominational Chapel, Jacksonville, Fla.
Designer: Perkins + Will
Commercial Stone Installation: Swift Plaza, Concord, Calif.,
Installer: Pennacchio Tile, Inc., a NTCA member
Residential Stone Design: Tripartite House, Houston, Texas
Designer: Intexture Architects
Residential Stone Installation: Private Residence, Vaughan, Ontario
Installer: Rockford Tile Contractors
Sustainable Stone Design: Alston & Bird LLP, Atlanta Offices, Atlanta, Ga.
Designer: Carson Guest, Inc.
International Stone Design: Hyde Park Gardens, London, England
Designer: Belsize Architects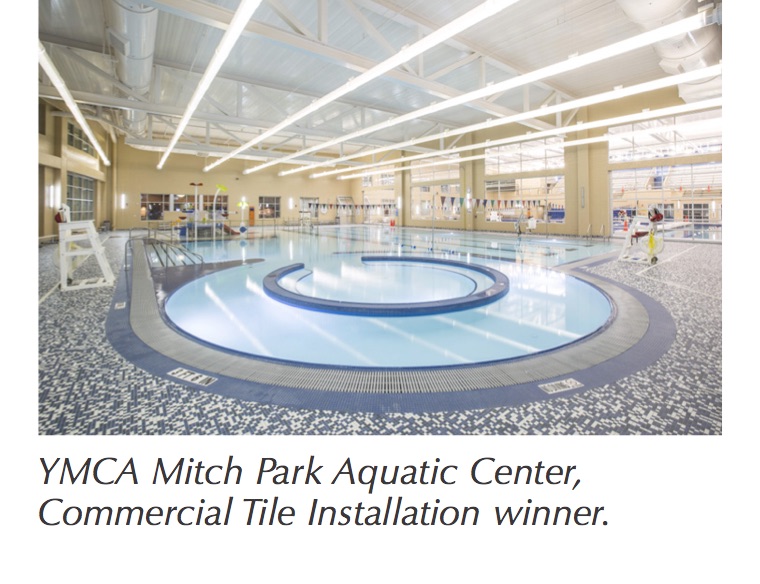 Commercial Tile Design: Vertex Pharmaceuticals Headquarters, Boston, Mass.
Designer: Artaic
Commercial Tile Installation: YMCA Mitch Park Aquatic Center, Edmond, Okla.
Installer: Bentley Flooring, a NTCA member
Residential Tile Design: Chastain Park Master Bathroom Renovation, Atlanta, Ga.
Designer: Rabaut Design Associates
Residential Tile Installation: Contemporary Desert Oasis, Gilbert, Ariz.
Installer: Alpentile
Sustainable Tile Design: Lakes Regional Healthcare Phase II – Surgery and Birth Centers, Spirit Lake, Iowa
Designer: RDG Planning and Design
International Tile Design: The Garden of the Silhouettes, Alicante, Spain
Designer: Esculpir el Aire
Community Project: "Committed to Serve" Central Fire Station, Grand Prairie, Texas
Architect/Designer: Montage 48/61 – An Artistic Partnership
For more information, visit  coverings.com/CID.
Rock Stars
Coverings announced the inaugural class of "Rock Stars" for the show's newly developed emerging leaders program. Each honoree was recognized for their individual achievements and contributions to the tile and stone industry.
A panel comprised of industry professionals reviewed more than 65 candidates, and selected the following 10 outstanding young leaders to be inducted into the 2015 cohort of Coverings Rock Stars. Representing a diverse array of industry specialties all under the age of 35, the 2015 honorees are:
Philip Belloff, VIP Tile & Stone, Retailer
Adriano Clebes Caetano, Adriano Marble Productions & Installations, Installer
Ryan Fasan, P.A.T.T.I. / Bellavita Tile, Presenter & Designer
Matthew Karlin, Nemo Tile Company, Distributor/Retailer
Fernando Lozano Assad, Tile Council of North America, Industry Trade Association / Partner
Jairo Martinez, Crowe Custom Countertops, Inc., Fabricator
Jill Muggleston, Walker Zanger, Distributor/Retailer/Manufacturer
Eric Tetreault, EJT Contracting, Installer, NTCA Member
Mathew Weiner, Westside Tile & Stone, Retailer
Carrie Zahradnik, ITZEN Architects, Inc., Designer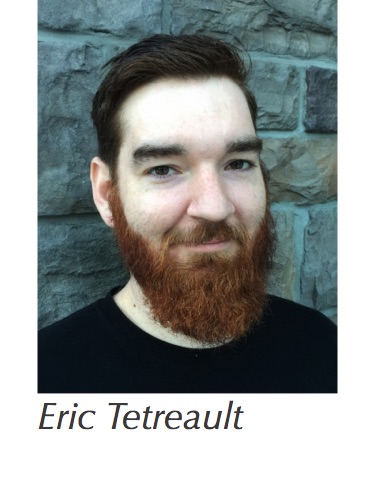 Rock Star Eric Tetreault of EJT Contracting in Saugerties, N.Y., is a NTCA member and NTCA State Director for New York. A CTEF Certified Tile Installer and ACT-certified installer, Tetreault assisted Scott Carothers with Advanced Certifications for Tile Installers (ACT) testing at Surfaces 2014 in Las Vegas.
These luminaries, along with their nominators, joined in a networking luncheon, sharing insight from their experiences and discussing their shared passion of the tile and stone industry. Each Rock Star received a one-night hotel stay in Orlando to attend Coverings.
To learn more about the Coverings 2015 Rock Stars, visit coverings.com/RockStars.