Member Spotlight – Mourelatos Tile Pro LLC – April 2015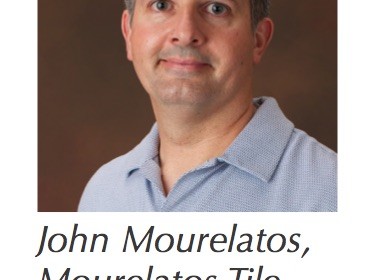 Mourelatos Tile Pro LLC
Tucson, AZ
www.mourelatostile.com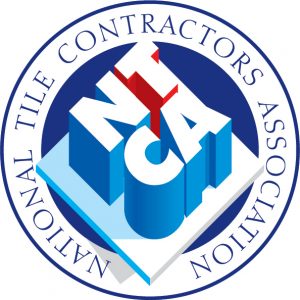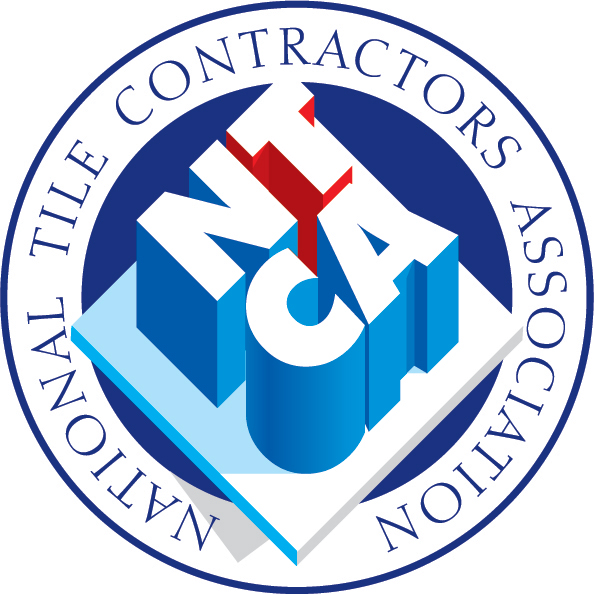 Mourelatos Tile Pro, LLC is owned by John Mourelatos, a first-generation tile setter. "I started my company in 2004 after working for several installation companies here in Tucson and learning the trade," Mourelatos said.
The company primarily provides tile installation services for residential remodeling. "We work with a few select designers and contractors who value the effort and craftsmanship we put into every project," Mourelatos added. "I am the owner/installer and employ one full-time installer with whom I have worked for almost 15 years. We enjoy working with homeowners and contractors/designers to assist in the development and implementation of their installations, whether they be a small kitchen backsplash or an entire house of tiled flooring and showers."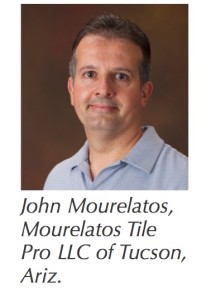 Since his business's inception, Mourelatos has been an avid attendee at industry events — aiming to attend at least one event a year to fuel his passion for providing "excellence and technically sound installations," he said. What he's learned at these events paid off, as his company was able to successfully weather the recession of 2008.
10-year NTCA member
Mourelatos Tile Pro jumped on the NTCA bandwagon early on. "I attended my first trade show – Coverings in Orlando – within the first year of starting my business and it was there that I was introduced to the NTCA," said Mourelatos, who in addition to being a NTCA member is a NTCA State Director. "I would say that the technical education I have received from everyone I met in the NTCA as well as the industry trade shows that I have attended is what enables us to provide excellence in our installations, building confidence within our clients."
A member for 10 years, Mourelatos said that "after starting my business in 2004, and getting overwhelmed by all the associations available to a small business, I found the NTCA to be most beneficial for what I was looking for. Educational opportunities were plentiful once I looked outside of our community, and it was refreshing to find other installers nationwide that shared the same passion and drive to succeed in an industry that lacked formal education.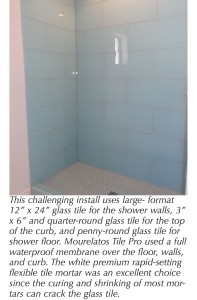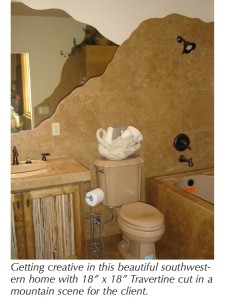 "The educational aspect of what the NTCA does is what gained my interest in membership, and I would say over the years that is still what I value the most out of being a member," he continued. "I have spent a lot of time attending industry events locally, as well as nationally, and I always leave with a renewed energy and passion that I bring back to my community. I have the NTCA and its inspiring members to thank for that."
Mourelatos highly values the industry-recognized certification afforded by the CTEF Certified Tile Installer (CTI) program and the Advanced Certifications for Installers (ACT) programs. Obtaining certification for himself and his staff installer is on the agenda for Mourelatos as he awaits a local opportunity to take the hands-on CTI test.
NTCA membership continues to be an integral part of Mourelatos Tile Pro's ongoing success. "Sometimes it's the details, the small things, that can make our tile installations shine, and equally important are the detailed technical aspects of the installation that our client may not 'see' but appreciates in knowing they have an installation that will stand the test of time," he explained.
"We are looking forward to growing our company this year to better serve our clients," he added. "I have spoken with many members of the NTCA and I value their guidance and experience as we continue with this expansion."