Five Star Contractor Spotlight – November 2014

Filling Marble & Tile, Inc.
Egg Harbor City, N.J.
Since: 1928
Specialty: All aspects of residential installation, fabrication; commercial repair and renovation; custom logos in tile and stone
Employees: 12
Website: fillingmarbletileoutlet.com

NTCA Five Star Contractor Filling Marble & Tile, Inc. (FMT), has been involved with NTCA for many years. FMT is a second-generation, family-owned business, formerly owned by Tom Ade with his wife Rose as president. Tom and Rose both retired in 2009, when the company leadership passed to their daughter, Pat Rattigan, and Dennis Wigglesworth.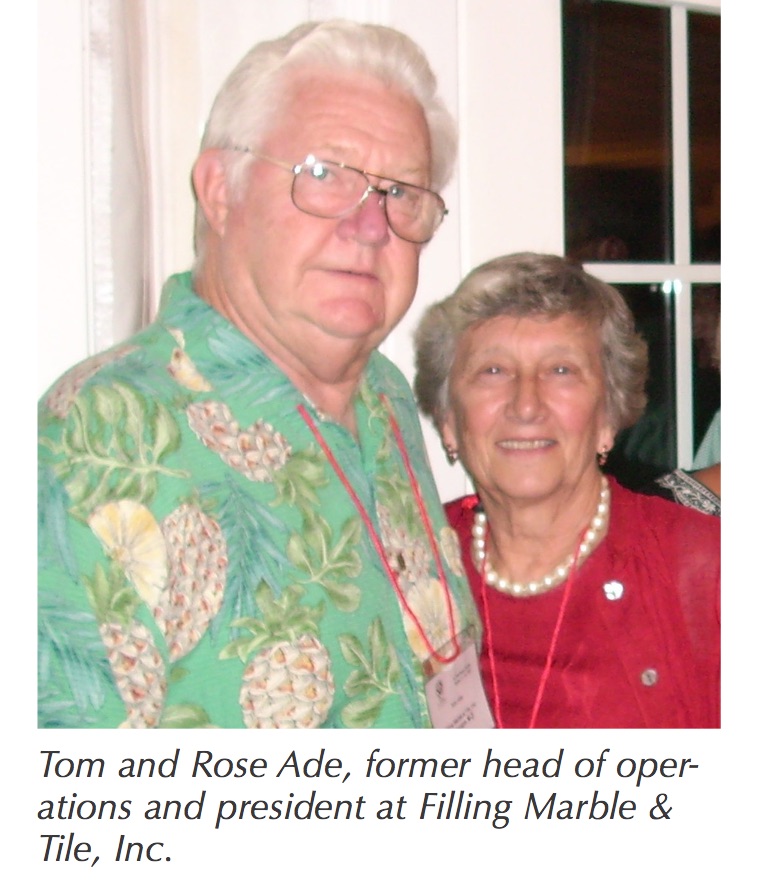 When Tom started with the company, it was a plastering business called Edward A. Filling. Eventually, it transitioned into an enterprise that focused on interior plastering, sheet rock and ceramic tile installation. Not long after, the decision was made to concentrate completely on the tile side of the business. In 1991, the name was officially changed from Edward A. Filling to Filling Marble & Tile, Inc.
Filling Marble & Tile, Inc., was one of the first companies to own a waterjet, striving to stay on the cutting edge of ever-changing demands in the industry. Over the years, FMT's fabrication shop grew, enabling the company to fabricate just about anything in addition to countertops, vanities, or thresholds of natural and manmade stone. Granite is the most-often-requested material, but the company has also fabricated marble, travertine, quartzite and quartz. The slab yard has over 300 different materials to choose from at present, ranging from soft and snowy whites – today's most popular color – to the most vivid blues.
In 2009, after creating a successful tile, marble and granite company, Tom and Rose retired, passing the torch – or the trowel – to Rattigan and Wigglesworth. President Rattigan manages the day-to-day operations, including consulting with general contractors, homeowners and customers, along with estimating residential jobs and overseeing estimating of commercial jobs. Wigglesworth runs commercial jobs and oversees production in the shop, which includes several full-time employees. He has served NTCA on its board of directors.
FMT is a WBE Certified business – Women's Business Enterprise. WBE Certification means that the business is at least 51% owned by a woman or women; female owners fund and manage the business, and demonstrate the ability to perform in the area of specialty or expertise without the reliance on either the finances or resources of a non-female owned firm. Rattigan is involved in every aspect of the business.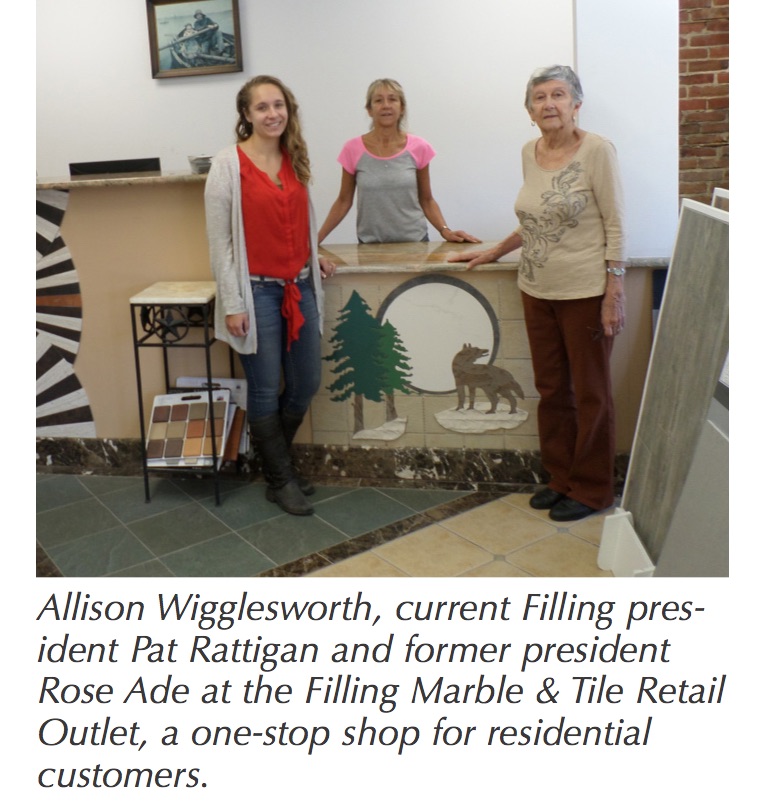 In the last few years, as a result of the recession and surrounding states opening casinos, Atlantic City's workload has drastically declined. FMT still does quite a bit of repair and small-scale renovation work in Atlantic City, but the glory days of tower building have long passed.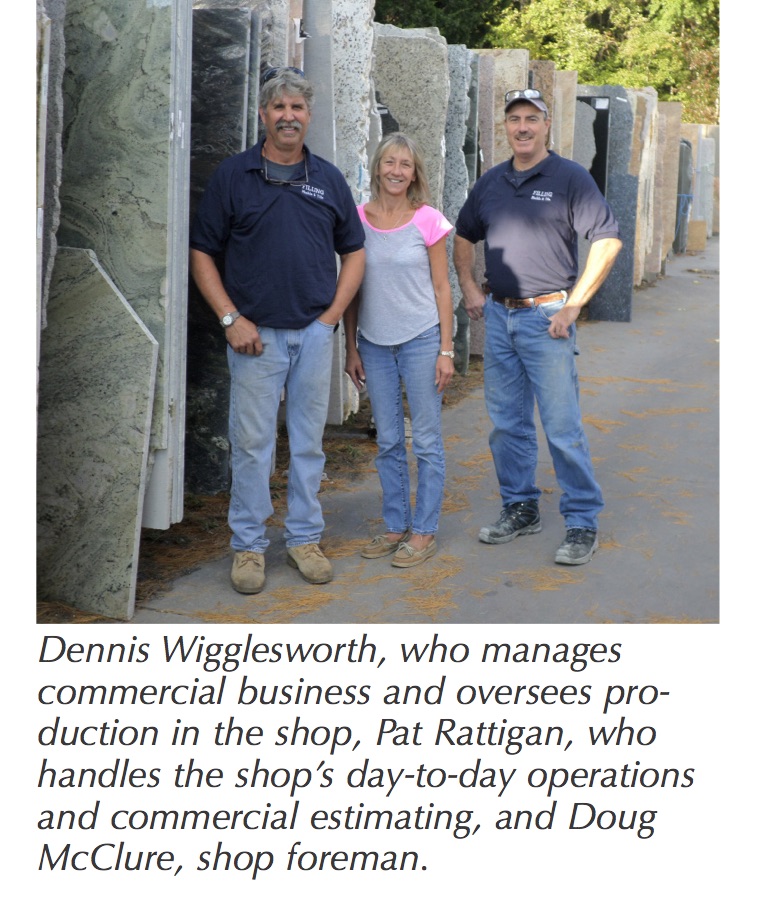 Once this trend ended, Filling Marble & Tile reinvented itself yet again. FMT revamped its structure into a predominantly residential company, and opened the Filling Marble & Tile Retail Outlet, which Rattigan's and Wigglesworth's daughter Allison manages. The outlet provides a residential one-stop shop, where customers can select flooring, countertops and backsplash materials all at the same location.
FMT has been part of NTCA for a number of years. Tom Ade was awarded the NTCA Ring of Honor in 2006 during the Total Solutions conference at the Las Vegas Hilton. Those recognized for this honor have made outstanding contributions to the ceramic tile, stone and allied products industries throughout their long and distinguished career.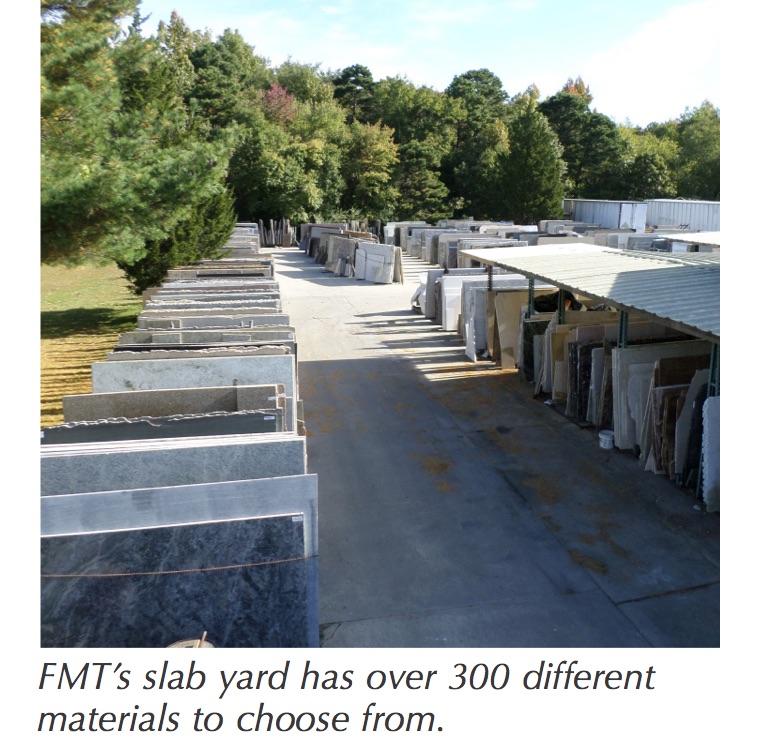 Attending Total Solutions Plus and Coverings aids the company's ability to progress in the tile industry. Tom and Rose remain active in the organization, having made very close friends and met several great people through the years.