Five Star Spotlight – Wirtz Quality Installations, Inc.

San Diego, Calif.
Since: 1972
Specialty: Providing impeccable quality and service for commercial and high-end residential installations, predicated on long-term relationships with clients; exceeding expectations through accountability to project schedules; and upholding the highest technical standards.
Employees: 60
Website: www.wirtzquality.com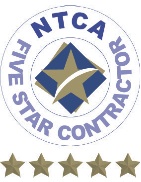 The Wirtz family has been a solid fixture in the tile industry in San Diego for three generations. It all started with John Q. Wirtz, who would bring his two-year old son John David along with him to work. Years later, the father and son team – along with spouses Wanda and Cookie, respectively – officially started their family business, a two-bucket company, in 1972.
After growing up in the family business, John and Cookie's daughter Amber Fox decided to officially join the company in 1997. As she made her way up through the company, she became a Ceramic Tile Consultant, and she is currently serving her second term on the NTCA Board of Directors. Her current position at Wirtz is vice president. Fox aspires to run the company one day.
Under her tutelage, Wirtz Quality Installation, Inc., (WQI) won the Coverings Installation Awards First Prize Tile for a Commercial project for the Palomar Medical Center West in April 2012, and a 2010 TileLetter Awards Commercial Installation Award of Merit for the Se Hotel in San Diego.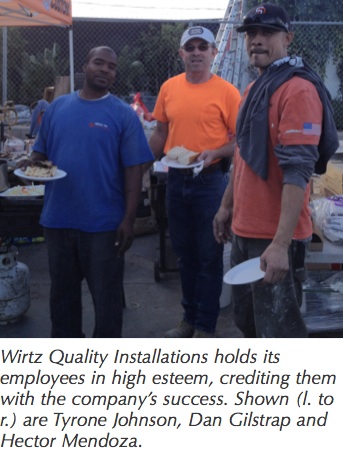 This family story does not end here. The 60 employees of WQI have been with the Wirtz family for an average of 14 years, ranging from over 30 years to those who joined just last year. This company has always taken pride in its goal of treating each person as a member of this family and not just an employee. These employees – along with their depth of experience and the culture of teamwork – give WQI the confidence to take on so many diverse and intricate projects. All of the company's key positions are filled with long-term employees. The Wirtz family knows that these employees are what make the company stand out.
WQI strongly believes in not becoming complacent, and holds its employees to this same standard. WQI not only stays involved in adapting to industry changes, it also makes sure that employees have the necessary training that will better them as individuals. For example, WQI sent nine installers through the CTEF Certified Installer Program, all of whom passed with excellent workmanship.
One employee who Wirtz considers the heart of the company is Steve McMurphy. He joined the WQI team back in 1982 and has been moving the company forward ever since. As field supervisor he is in charge of all the installers and the scheduling.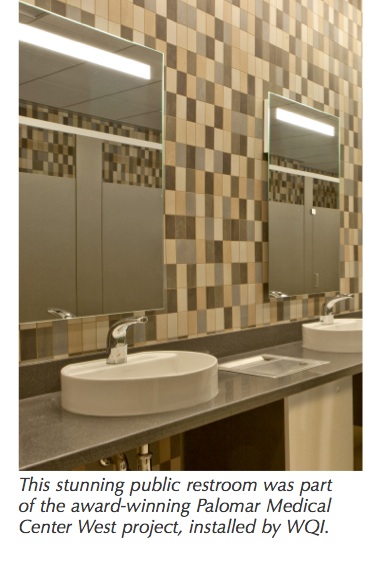 As Steve is the heart of the company, Frank Echols – who has been with the company for 25 years – is the backbone. Echols is WQI's senior estimator.
"You will not find a more thorough and detail-oriented person," explained Amber Fox. "When we turn in a bid, we have every confidence that it is correct and complete. Anyone who has done commercial work knows how important estimating is to having a successful project."
Project manager Justin Kylstad is amazing at keeping WQI jobs organized, running smoothly and coming in on budget – not an easy task in this unpredictable monster called construction.
Warehouse manager, Pablo Murillo, Jr. has had the challenge of handling Wirtz orders shipments and deliveries for the past 27 years.
"While he takes his work very seriously, his personality has everyone laughing at the same time," Fox said.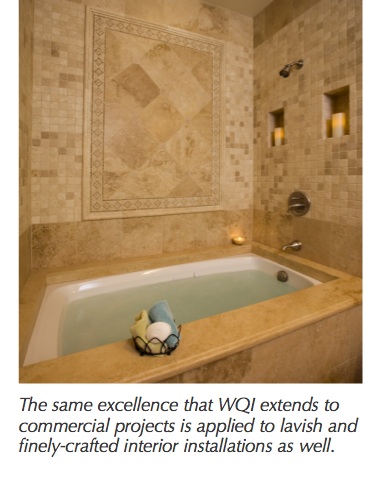 Office manager Bernadette Reyes is the sunshine in the company, keeping all of the office on track, and keeping staff and employees all in line. She has the pleasure of processing contracts and their insurance needs as well as accounts payable.
Ryan Wilson is the latest addition to WQI office. "We are thankful every day for Ryan," Fox said. "He goes above and beyond for this company. He makes sure that our projects are not only paid on time so this company can continue in this economy, but he is a wizard at all of the billing requirements for the different general contractors."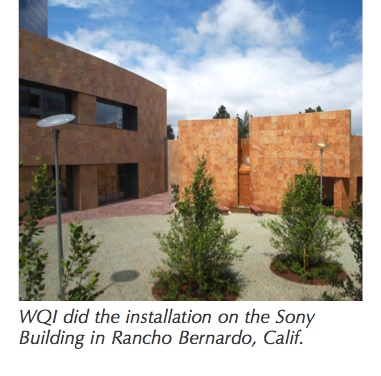 WQI foremen, Phil Reyes, Albert De La Vega, Dan Gilstrap, Joel Martinez, Victor Fox and Sal Contreras have seen and done it all. They have led numerous tile projects throughout San Diego, including – but not limited to – hospitals, office buildings, condo high-rises, hotels, restaurants, and casinos. And these are just examples from WQI's commercial division; the foremen feel just as at home in high-end custom homes as they do in a large commercial project. They are the foundation for the company and the excellent relationships and repeat business that Wirtz has with its general contractors today.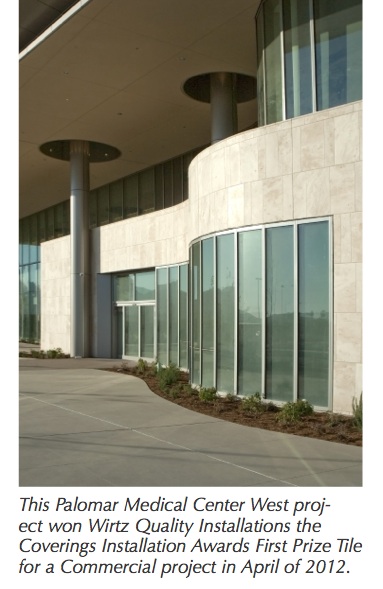 What the family of employees brings to the mix are core components of holding to WQI's mission statement: "We create long-term relationships with our clients, exceeding their expectations through our accountability to project schedules, upholding the highest technical standards, and providing impeccable quality and service."
Wirtz Quality Installations, Inc., is very fortunate to have the next generation in place in all the key positions. This group is all in their late 30s and already has over a decade of experience. With their enthusiasm and interest for the industry, it looks like Wirtz Quality Installations, Inc., will have a bright future.
Wirtz Quality Installations, Inc., lives and breathes its motto every day: "Work hard but laugh harder." Having a treasured family of employees makes living that dream a reality.