Attendees at Total Solutions Plus enjoyed two special industry awards luncheons recently, honoring individuals who have positively impacted the tile trade in many ways.  Total Solutions Plus is a tile and stone leadership conference and networking event, managed and promoted by the Ceramic Tile Distributors Association, Tile Council of North America, National Tile Contractors Association, and Tile Contractors Association of America.  It took place October 26th-29th at the Hyatt Coconut Springs resort in Bonita Springs, Florida.  The following individuals were recognized at the conference: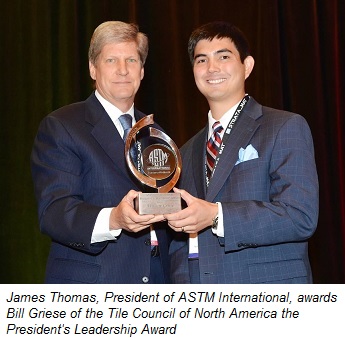 Tile Council of North America: ASTM President's Award
In a very special presentation, James Thomas, President of ASTM International, (formerly known as American Society for Testing and Materials), made a special trip to recognize the ASTM International President's Leadership Award to Tile Council of North America's Bill Griese.  Griese was recognized for his outstanding contributions to ASTM, particularly on the C21 Committee.  ASTM is an international organization and the contributions of Griese to this important organization was a significant and important award for him, as well as for TCNA and the tile industry. 
Ceramic Tile Distributors Association Hall of Fame Award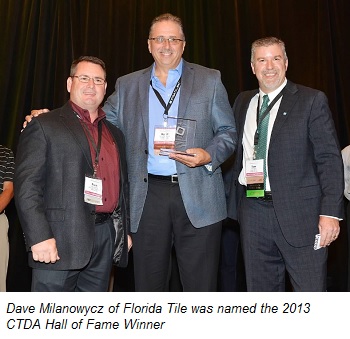 Dave Milanowycz, a long time employee of Florida Tile and dedicated supporter of the Ceramic Tile Distributors Association, was honored in a special Hall of Fame Award ceremony.  Milanowycz has served the CTDA in many capacities as an associate member, sponsor, and committee and board representative.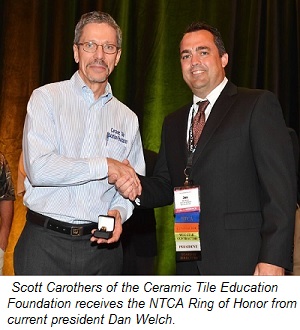 National Tile Contractors Association Ring Of Honor Award
Scott Carothers, a former tile contractor and NTCA President, who currently dedicates his time and efforts to developing certification and training programs for the Ceramic Tile Education Foundation, was named the 2013 NTCA Ring Of Honor recipient.  Carothers has been with the CTEF for the past several years, and has been instrumental in the development of the Certified Tile Installer (CTI) program, and the new Advanced Certifications for Tile Installers Programs (ACT) that is being promoted and managed by all the leading tile installer trade associations. 
Tile Contractors Association of America Cesery Awards 
The TCAA recognized both the 2012 and 2013 recipients of their prestigious Carl V. Cesery Award.  The 2013 recipient, Earl Trostrud Jr. of Trostrud Mosaic and Tile Company in Chicago, was honored in a heartwarming presentation by long time friend and supporter John Cousins, Vice President for Daltile Corporation.  Trostrud has been actively involved in the TCAA as well as the Ceramic Tile Contractors Association of Chicago for his entire career.  Also recognized was the 2012 recipient, Les L. Lippert of Lippert Tile in Milwaukee, Wisconsin.  Les is a third generation tile contractor and the second member of the Lippert family to receive the Cesery Award (his father Al was honored in 1996).