International Wholesale Tile, LLC restructures director's team of industry veterans; expands flagship brand: Tesoro, The Collection™
Palm City, Fla. – May 28, 2012 – International Wholesale Tile, LLC (IWT), a value-added provider of premium ceramic, porcelain, natural stone and a variety of decorative glass, pool and mosaic tile products that are available in a wide variety of retail floor covering stores, design centers and specialty tile and stone shops, has repositioned select executive responsibilities throughout the company to promote its immediate and longterm development requirements.
Grey Perna, previously the Senior Director of Marketing and 18-year veteran at IWT, now occupies the lead role within the company as builder program manager.
"As the housing sector within the Southeast United States and throughout continues its healthy expansion, it is vital that we engage the housing market with the foremost preparedness. And, as we expand our product offering in this program, including our renewed emphasis on sustainable inventory levels, I am tremendously excited about the company's prospects for many years to come in this segment," said Perna.
Formally with IWT from 2002 to 2007, Ken Baker has recently returned to IWT as Director of Customer Relations. With accountabilities including: marketing, sample department and overseeing the company's Dancik Enterprise System (DES) implementation, Baker carries with him a wealth of knowledge in brand management, strategic sales & marketing and team development resources.
Paul Boucher, President of IWT, said of Baker, "Ken brings with him a unique, valued skill-set and a renewed sense of evolution for the company. We look forward to utilizing him in numerous capacities within IWT to emphasize culture, value and growth."
Baker added, "The reason for these calculated positioning decisions are to strategically prepare us for several new product launches in the future, as well as to improve our efforts in deepening our inventory with select product lines. Having grown roughly 35% in the last three years, these changes are to ensure that this trend stays positive."
Included in IWT's new product offerings is the brand new series, Timberland, a Tesoro porcelain. This contemporary style multi-width wood-look line includes 3 widths: 3", 5" & 8" x 36" long. The lightly textured wood grain plank design is offered in a range of five colors : Ash, Beech, Maple, Oak and Mahogany. The series has a moderate V3 shade range, a PEI rating of IV. It can be installed by alternating the three widths and staggering the grout joints randomly like those used in multiple-width real wood installations.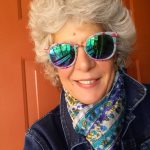 Editor for TileLetter, TileLetter Coverings, TREND and TECH publications.
Lesley Goddin has been writing and journaling since her first diary at age 11, and drawing and sketching since she could hold a pencil. Her penchant for observation led to her becoming a paid professional as a trade journalist, publicist and is editor for TileLetter. She has also written for Guideposts, Walls, Windows and Floors, Floor Covering Weekly, and Low Carb Energy.