Editor's Letter April 2013

In stone sculpting, an artist taps a stone lightly with a hammer to see if it's "true." If it emits a dull tone, it has faults running through it that will crack it apart when you work on it. A clear ring, one that hangs in the air for a moment, means it's true, has integrity, and, most importantly, will hold up under repeated blows. This is the same information we seek about our callings, and we need to be continually "tapping in" to discern their truth.
– Gregg Levoy,
Callings: Finding and
Following an Authentic Life
Recently I attended a workshop by Gregg Levoy (www.gregglevoy.com), author of the book Callings: Finding and Following an Authentic Life, on the subject of the same name.
Part of the workshop involved a process of brainstorming. Actually it was more of a brainstorming barrage. A volunteer who was trying to expand a dressmaking business sat on stage – and once the purpose and target of her business was clarified – we all bombarded her with ideas in answer to the question: "In how many ways can I expand and promote my dressmaking business?"
In 12 minutes, we had 75 ideas. Levoy encouraged us to think outside the box and toss as many ideas as possible into the fray – no matter how outrageous. Of the gathered list, he encouraged asking four questions of each idea:
1. What's good about this idea?
2. What are its problems?
3. How can they be overcome?
4. What new ideas does this one suggest?
This process seemed like a great one to share with TileLetter readers. How often do you brainstorm with your staff, workers, contacts, vendors, customers, clients about an issue you are trying to resolve? What would happen if you gathered a group of people together (either live or via Skype, email or social media) in a brainstorming session to generate new ideas, actions, contact, solutions, etc., in response to the question, "In how many ways can we __________________?" What untapped reservoirs of creativity might you unleash? What kind of enthusiasm might you generate? What kinds of novel and inspired solutions might result from unexpected sources? If you are feeling stuck concerning a problem or issue facing your business, why not try this approach and run each idea through the gauntlet of questions above to hone your solution to perfectly fit your business?
In the meantime, scour the pages of this issue of TileLetter for inspiration, solutions and suggestions that can enrich your business and make it more professional and profitable. Do you have an idea for a story or do you have one to contribute? Share it with me at [email protected]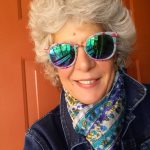 Editor for TileLetter, TileLetter Coverings, TREND and TECH publications.
Lesley Goddin has been writing and journaling since her first diary at age 11, and drawing and sketching since she could hold a pencil. Her penchant for observation led to her becoming a paid professional as a trade journalist, publicist and is editor for TileLetter. She has also written for Guideposts, Walls, Windows and Floors, Floor Covering Weekly, and Low Carb Energy.