Communities Across the U.S. Benefit from Daltile's Legacy of Giving
Dallas, TX (May 6, 2013) – For more than 65 years, Daltile has helped homeowners, contractors and design professionals bring their visions to life with the widest range of quality tile and stone. But, leading the industry with best-in-class products isn't enough.
"It's important to not only to be leaders in our industry, but also in every aspect of our business," says Jim Fanning, senior vice president, Marketing, Dal-Tile. "It is important to our team members and our culture that we give back to the communities that support us."
With 2,000 employees in over 260 locations, Daltile's touch can be felt across North America. And through its Legacy of Giving, the company is touching more people, more communities, and more organizations in need than ever before.
"Through our Legacy of Giving initiatives we support the worthwhile efforts of organizations like the ASID Foundation, the American Cancer Society, the Susan G. Komen Foundation, and many local organizations," continues Fanning. "We're committed to leaving a legacy of giving back to those who give so much to us."
Recently Daltile's Legacy of Giving has focused on two major programs:  becoming a national corporate partner for Habitat for Humanity, and a company-wide contribution to military members and their families.
As a national corporate partner of Habitat for Humanity, Daltile will support the organization's mission with monetary donations, products and the time and talent of employees by hosting housing builds in major metropolitan markets across the U.S.
"Daltile is helping those in need by creating beautiful spaces and affordable housing through donations of time, talent, tile, and funding to Habitat for Humanity," said Lori Kirk-Rolley, senior marketing director, Dal-Tile. "We're thrilled to align with such a giving organization in the communities we've worked for many years."
"Thanks to corporate partners, like Daltile, we're able to continue to grow and meet our mission, and provide safe, affordable housing for families across the U.S. and around the world," says Lysa Ratliff, senior director of Corporate Programs for Habitat for Humanity International.  With this assistance from Daltile, and its employees we'll be adding to the more than 600,000 houses we've built and repaired and serve more than 3 million people worldwide."
The Habitat for Humanity partnership kicked off on May 7 with the first housing build taking place in Houston, Texas. Following the Houston build, will be Phoenix on May 11, and then builds in major cities including Boston, Chicago, Dallas, Los Angeles, Miami, New York City, San Francisco and Washington D.C.
In addition to working with Habitat for Humanity, employees recently honored U.S. and Canada military members and their families as part of Daltile's Legacy of Giving. The passion to say "thank you" and to give back came across loud and clear at the company's recent National Sales Conference.
"When it comes to giving, there is no greater example than our military," said John Cousins, vice president, Daltile. "Every day, brave service men, women and their families make tremendous sacrifices to preserve our freedoms." During the conference in Orlando, Florida, employees honored U.S. and Canadian military and their families. Events included assembly of 900 care packages and the hosting of three special Marine families for a much-deserved vacation.
Cousins continued, "Our efforts at the National Sales Conference are a small token of appreciation for the sacrifices made by our military families each and every day."
"We all know the pressures working families face, and typically there's little time for rest and relaxation," said Cousins. "The pressures and stress are compounded for a military family when its father, mother, son or daughter is away for extended periods of time. To express our deep appreciation for their sacrifices, we were thrilled to have the opportunity to give a few families the gift of time to spend together."
During the conference, two medically retired U.S. Marine Corps Sergeants, a Marine Gunner CWO-3 on active duty in the U.S. Marine Corps, and their wives and children enjoyed a four day vacation and their first trip to Disney World, courtesy of Daltile. The families were also honored during a special presentation, along with Daltile's own employees who have served, or currently serve their country in the military.
Additionally at the conference, Daltile employees assembled care packages for American and Canadian active military members, wounded veterans and military families. Packages included necessities such as toiletries, as well as fun items like gift cards, headphones and playing cards. At the conclusion of the conference, Daltile employees loaded the care packages onto military trucks with the help of local Army and Navy Reservists for a grand send off.
"We are so thankful for the leadership position we have in our industry, and are thrilled to be sharing our success with the communities, and people, who've supported us," says Fanning.  "Our legacy will be one of leadership, and giving back, for years to come."
About Daltile
Daltile is an industry-leading brand of ceramic, porcelain, glass, metal, manufactured stone and natural stone tile products.  Daltile products are distributed through over 250 company-owned sales service centers, stone slabyards and gallery design centers that service a robust network of trade customers.  Dedicated to innovative product development and distinguished style, Daltile provides a rich palette of quality products created to inspire residential and commercial designs. For more information, visit www.daltile.com and follow Daltile on Facebook, Twitter and YouTube.
About Habitat for Humanity International
Habitat for Humanity International is a global nonprofit Christian housing organization that seeks to put God's love into action by bringing people together to build homes, communities and hope. Since 1976, Habitat has served more than 500,000 families by welcoming people of all races, religions and nationalities to construct, rehabilitate or preserve homes; by advocating for fair and just housing policies; and by providing training and access to resources to help families improve their shelter conditions. For more information, to donate or to volunteer, please visit Habitat.org, follow us at facebook.com/habitat or at twitter.com/habitat.org or join Habitat's blog community at habitat.org/blog.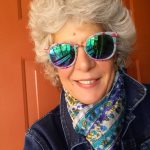 Editor for TileLetter, TileLetter Coverings, TREND and TECH publications.
Lesley Goddin has been writing and journaling since her first diary at age 11, and drawing and sketching since she could hold a pencil. Her penchant for observation led to her becoming a paid professional as a trade journalist, publicist and is editor for TileLetter. She has also written for Guideposts, Walls, Windows and Floors, Floor Covering Weekly, and Low Carb Energy.