Ceramic Tile Education Foundation Announces Leadership Expansion Plans
In an effort to expand certification and training efforts in the tile and stone industry, the Ceramic Tile Education Foundation (CTEF) Board of Directors recently appointed Bart Bettiga as its Executive Director.  Bettiga, who is also the Executive Director of the National Tile Contractors Association (NTCA), will work to synergize the two organization's programs, and will spearhead marketing efforts to promote certification and training to the trade and in the building and design community.
Scott Carothers will continue his leading role with CTEF as the Director of Certification and Training.  In this role, Carothers will continue to expand on the Certified Tile Installer Program (CTI), which will soon announce reaching the milestone of 1,000 professional certifications.  In addition, Carothers will work closely with other leaders of tile installer organizations to develop and implement the Advanced Certifications for Tile Installers Program (ACT), which takes certification to the next level and focuses on specific installation skills in unique applications.
"The effort to certify tile installers and improve the quality of our trade and the confidence to use our products, has been identified by NTCA leaders as our most important objective," said Bettiga. "I am pleased to assist CTEF and work closely with Scott and the Board of Directors to accomplish this important goal."
Carothers, who is a former president of the NTCA and was the chairman of NTCA's prestigious Technical Committee prior to joining CTEF, knows first-hand the impact of the association and the positive effect this will have on CTEF objectives.
"CTEF has built the CTI program methodically, encountering many growing pains along the way and overcoming objections in the field;" said Carothers.  "With the development of the ACT program, and the need to expand the CTI program as the feeder to ACT, we welcome the support of Bart, the NTCA staff and the Board of Directors.  We realize these programs will take time to develop, and we anticipate the steps we are taking today will impact the tile trade in a positive way for years to come."
Bettiga has been the NTCA Executive Director since 2002.  He has been actively involved in the development of certification on CTEF for many years, and has been instrumental in developing the ACT program to expand certification. Under his leadership, the NTCA has grown its membership over 100% in the past ten years.
(ACT) is a collaborative taskforce representing tile installation contractors and installation materials manufacturers jointly supported by the National Tile Contractors Association, Tile Contractors' Association of America, International Union of Bricklayers and Allied Craftworkers, Ceramic Tile Education Foundation and the International Masonry Institute.  Its mission is to promote the use of tile in construction by ensuring that tile installers possess the knowledge and skills required to achieve superior results in installation areas identified by the taskforce.  Its purpose is to provide a means by which installers can acquire that advanced knowledge and skill set and consumers can identify installers who possess that advanced knowledge and skill set.
ACT will certify installers in four categories: Large Format Tile and Substrate Preparation, Mudwork, Shower Pans, and Membranes.  The taskforce plans to market these certifications to project owners, architects, builders and general contractors, designers and specifiers, and consumers.  An on-line study guide and test covering the installation standards associated with these skills is another key component of the certification.
CTEF provides local, regional and national educational programs for industry professionals, consumers, building and design professionals, and more.  The CTI Certification is the only third-party assessment of installer skill and knowledge.  "It is a difficult and fair certification, that can be completed in one day, and incorporates many of the skills necessary for competency in the field," said Bettiga.  "The ACT Program will allow us to go to the next level; where we focus on specific installation skills, and we begin to make concentrated efforts to have these skills cited as requirements in specifications."
For more information about the CTEF or ACT Programs, contact Bart Bettiga at [email protected] or Scott Carothers at [email protected].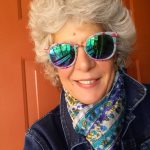 Editor for TileLetter, TileLetter Coverings, TREND and TECH publications.
Lesley Goddin has been writing and journaling since her first diary at age 11, and drawing and sketching since she could hold a pencil. Her penchant for observation led to her becoming a paid professional as a trade journalist, publicist and is editor for TileLetter. She has also written for Guideposts, Walls, Windows and Floors, Floor Covering Weekly, and Low Carb Energy.