Editor's Letter March 2013

Information technology and business are becoming inextricably interwoven. I don't think anybody can talk meaningfully about one without the talking about the other. — Bill Gates

How nice it would be if the magazine that you hold in your hands right now was 400 pages long every month. Then I could include every single nuance and event and product that comes my way, whether it be by snail mail, email, story pitch, or  trade show discovery.
For instance, I could include more information about the Crossville promotion at SURFACES with architect and HGTV Curb Appeal: The Block host John Gidding. I could go into much more detail about the useful, stunning and innovative products that launched at the show or even about cool things to see in Las Vegas.
Alas, at present, TileLetter has to contain all this information, like the synopsis of the Surfaces show and some of the products seen there, on 92 jam-packed pages.
That's one reason why we started www.tileletter.com a couple of years ago. In addition to giving you breaking news on industry events, it also gives us a chance to expand some of the information that we just can't fit on the pages of TileLetter right now – and still have type that is large enough for you to read!
In recent months, we've expanded some of the information in the printed version of Tools of the Trade at www.tileletter.com, and done the same for our New Products. We also may print a concise version of a story in your monthly TileLetter, and then present the story in its entirety online at www.tileletter.com — such as we're doing with the "Best of Everything" interview with Rick Baldini in this issue. Look for  a note on the page that directs you to www.tileletter.com for extended information.
So please do check the pages of www.tileletter.com. You'll also find archives there of our feature and technical stories as well as the current issue in digital page-turner format – which is handy for reference if you are out on a job with only your phone or tablet, but your printed TileLetter is still back at the office.
So until TileLetter is a 400-page veritable catalog, please keep reading, and check the www.tileletter.com website from time to time for more information about the great goings-on in our industry!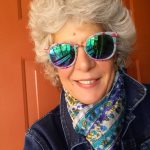 Editor for TileLetter, TileLetter Coverings, TREND and TECH publications.
Lesley Goddin has been writing and journaling since her first diary at age 11, and drawing and sketching since she could hold a pencil. Her penchant for observation led to her becoming a paid professional as a trade journalist, publicist and is editor for TileLetter. She has also written for Guideposts, Walls, Windows and Floors, Floor Covering Weekly, and Low Carb Energy.