LATICRETE Touchdown Promotion a Major Catch at Surfaces 2013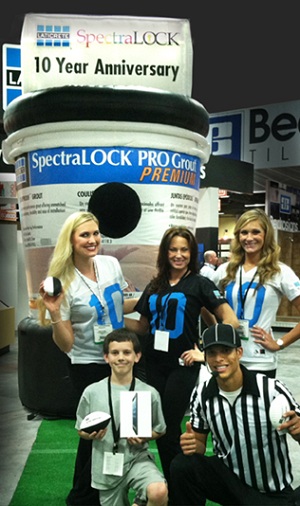 LATICRETE, a manufacturer of globally proven construction solutions for the building industry, held an interactive in-booth football touchdown promotion at the 2013 Surfaces trade show in Las Vegas celebrating the tenth anniversary of industry-leading LATICRETE® SPECTRALOCK® Grout.
A promotional was game played where contestants had the opportunity to "pass" small footballs through a target on a very large, inflatable LATICRETE SPECTRALOCK PRO PREMIUM Grout pail. All show attendees were invited to pretend they were at the "Big Game" and throw the game-winning touchdown. Everyone who took part became eligible to win one of ten Apple® iPad Minis.
"Show attendees were lining up into the aisle for a chance to win an iPad Mini," exclaimed Maria Oliveira, LATICRETE Corporate Marketing Manager. "Everyone really got into the action and enjoyed themselves and our fun brand ambassadors, including a referee and several cheerleaders. We never lost sight, however, of the fact that this was the tenth anniversary of SPECTRALOCK, which continues to be the world-leading product of its kind, even after being launched a decade ago."
Winners included Joel Snodgrass of Southern Flooring Inspectors; James Burk of Stanley Steemer; Hai Luong of SJ Flooring Outlet; Heather Schmidt of Imperial Flooring; Dave Boylen of River Woods Flooring; Musa Dajani of Carpetland; Kyle Griffiths of Abbey Floors & More; Tim Fielden of The Flooring Outlet and others.
LATICRETE International, Inc. provides globally proven construction solutions for the building industry.  LATICRETE® products are manufactured and distributed worldwide in the commercial and consumer channels. The company's philosophy of innovation and technical expertise has led to an unparalleled reputation and commitment to superior quality, performance and customer service. Engineered and produced in state-of-the-art ISO 9001:2008 certified facilities, LATICRETE offers a broad product portfolio including an extensive line of independently certified low VOC sustainable products. LATICRETE®, LATAPOXY®, SPECTRALOCK®, HYDRO BAN® and DRYTEK® are registered brands of LATICRETE International, Inc. Corporate Website: www.laticrete.com.