Editor's Letter – September 2012
Last month, much of this column was devoted to the online version of TileLetter, which allows you to read current or past TileLetter content in digital-page turner form or in an ongoing, frequently-updated list of articles, stories and announcements, organized by category. Just go to www.tileletter.com from your computer, phone or mobile device and the wealth of information you read each month in this printed magazine (and more!) is there at your disposal.
The digital versions of TileLetter, and sister publication TADA: Tile for Architects, Designers and Affiliates (www.ntca-tada.com) aren't where the NTCA online presence ends. In this world where e-reporters and video are as close as your phone, NTCA has joined the fray with a YouTube channel of its very own. Visit www.youtube.com/user/TheNTCA for 79 videos (at press time) on a range of subjects from NTCA itself to Tile Tips, Coverings, The Installation Design Showcase, Tile-TV, "What Went Wrong" segments which examine specific aspects of a tile job, what went wrong and how to prevent it; spotlights on industry members who are excelling in their field, and technology segments that present emerging technologies that can help you in your business and more.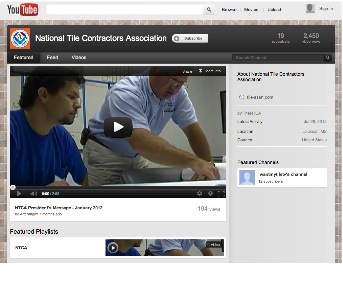 These videos are available 24/7 for personal use, but that's not all. You can also employ them as training tools and as part of weekly or monthly meetings, free of charge. Keep checking back for updates and additions or hit the subscribe button and be notified of new segments on the National Tile Contractors Association channel automatically. And for up-to-the-minute Tile-TV content, subscribe to www.youtube.com/user/iwantmytiletv for this monthly internet industry news program delivered to thousands in the tile and stone industry.
As for THIS issue of TileLetter, it's been designed to make a grand entrance. Because EVERY residential or commercial building has an entryway – and many of them are tile or stone – much of our content in our September issue is devoted to how to have a flawless entry or foyer installation. Check out our cover story by Schluter Systems, our technical story by Michael Whistler and our case study on the installation of the Town Center in Virginia Beach for insights on how to make YOUR next entryway or foyer installation run smoothly.
Happy reading!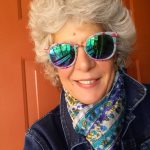 Editor for TileLetter, TileLetter Coverings, TREND and TECH publications.
Lesley Goddin has been writing and journaling since her first diary at age 11, and drawing and sketching since she could hold a pencil. Her penchant for observation led to her becoming a paid professional as a trade journalist, publicist and is editor for TileLetter. She has also written for Guideposts, Walls, Windows and Floors, Floor Covering Weekly, and Low Carb Energy.