Editor's Letter – July 2012
If you read last month's Business Tip, you'll remember that it was written by Steve Rausch who represents the Substrates and Specialty Products Division of USG Corporation out of Alpharetta, Ga. You'll also remember that he's  the author of the Rausch Ravings blog (http://rauschravings.blogspot.com/).
On Monday, June 25, I read his blog on "How to Handle Stress." It contains some balancing wisdom I thought was essential.
We all work hard. There never seems to be a lack of opportunities to do a little more or work a little harder at your business. And doing so is often part of the formula that distinguishes a successful business from a floundering one.
But there's insight in the saying about "all work and no play." And since it's summertime, and vacations are on people's minds and calendars, I wanted to pass on this story from Steve's blog for your reading pleasure:
I did not write this story, just received it from a friend and thought it worthy to pass along to everyone reading my blog. I had intended on writing about vacations; seems like many are interested in that subject right now, but my take was going to be on those who avoid vacations and seem to wear that like a badge of honor – that they don't take a vacation. Well, it just isn't healthy and it is really not good for your company! They provide vacation time for a reason. I believe this below story very well points out that exact reason!
A young lady confidently walked around the room while explaining stress management to an audience. As she raised a glass of water, everyone was sure she was going to ask the ultimate question: "Half empty or half full?" However, she fooled them all. 
"How heavy is this glass of water?" she inquired with a smile. 
Answers called out ranged from 8 ounces to 20 ounces. 
She replied, "The absolute weight doesn't matter. It depends on how long I hold it. If I hold it for a minute, that's not a problem. If I hold it for an hour, I'll have an ache in my right arm. If I hold it for a day, you'll have to call an ambulance. In each case it's the same weight, but the longer I hold it, the heavier it becomes." 
She continued, "That's the way it is with stress. If we carry our burdens all the time, sooner or later, as the burden becomes increasingly heavy, we won't be able to carry on." 
"As with the glass of water, you have to put it down for a while and rest before holding it again. When we're refreshed, we can carry on with the burden – holding stress longer and better each time. So, as early in the evening as you can, put all your burdens down. Don't carry them through the evening and into the night… Pick them up tomorrow.
"Whatever burdens you're carrying now, let them down for a moment. Relax; pick them up later after you've rested. Life is short. Enjoy it and the now 'supposed' stress that you've conquered!" 
Relax today – stop and smell the roses and other flowers you pass so often without notice. — Steve
Thanks, Steve for the reminder. Happy flower smelling, everyone!
Lesley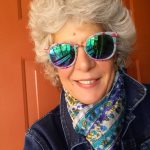 Editor for TileLetter, TileLetter Coverings, TREND and TECH publications.
Lesley Goddin has been writing and journaling since her first diary at age 11, and drawing and sketching since she could hold a pencil. Her penchant for observation led to her becoming a paid professional as a trade journalist, publicist and is editor for TileLetter. She has also written for Guideposts, Walls, Windows and Floors, Floor Covering Weekly, and Low Carb Energy.