2012 NTCA Tile & Stone Symposium
NTCA began 2012 with an expanded schedule of NTCA Tile & Stone Symposiums with Gerald Sloan, NTCA training director, and Michael Whistler, NTCA trainer and Symposium presenter, imparting their knowledge and experience to installers and other personnel spanning the U.S. Here's just a sampling of events that took place through May, in an all-new Symposium format and curriculum.
Plano, Texas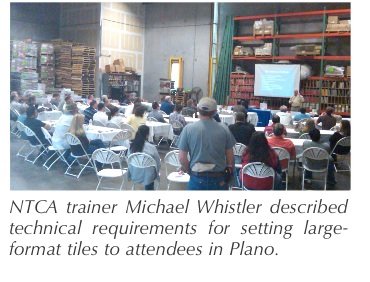 The March 7, 2012 Symposium at Daltile in Plano, Texas, presented by Michael Whistler, was hailed as a great success. Paul Hansen, Daltile senior director of allied products sales, noted, "This was a fantastic production with excellent turnout and tremendous supplier support. We consider this a slam-dunk event!"
Boynton Beach, Fla.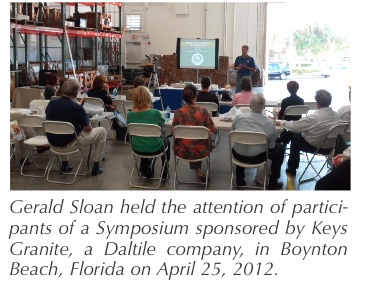 Scott Lang, branch manager of Keys Granite, a Daltile company in Boynton Beach, Florida, complimented Gerald Sloan on the April 25, 2012 Symposium. "You certainly have this road show program presentation engineered to be self-sufficient, productive, and very informative. I received many positive comments during the event, and every participant felt it was valuable time spent. Well done!"
Farmington Hills/Detroit, Mich.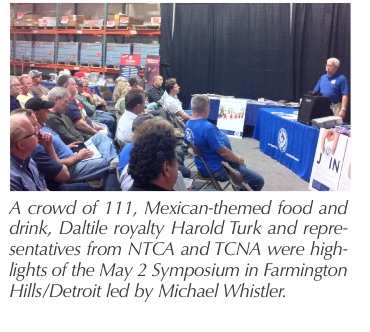 On May 2, Michael Whistler rolled into the Farmington Hills/Detroit area Daltile, where he was welcomed by a crowd of 111. A seven-piece Mariachi band played during the Mexican-themed meal hour to celebrate upcoming Cinco de Mayo.
"The Dal staff did incredible work to transform a mundane warehouse setting into a very nice show area," Whistler said. "First, they curtained off most of the surrounding pallet racking, hung numerous banners to further cover racks, and then they laid carpeting over the concrete. They even had a carpet runner leading from the showroom area, where the food was set up, to the show area."
Joining in the event in the newly remodeled showroom were Jeff Glazier, branch manager, Daltile royalty Harold Turk and many Dal upper echelon management in attendance. Also in attendance were Dave Rogers, NTCA Area 5 Board Director, who volunteered as cameraman and erstwhile assistant, Steve Maloney and Frank Fazi, NTCA Five Star contractors, and TCNA's Stephanie Samulski with her husband Phil, tile contractor.
Albuquerque, NM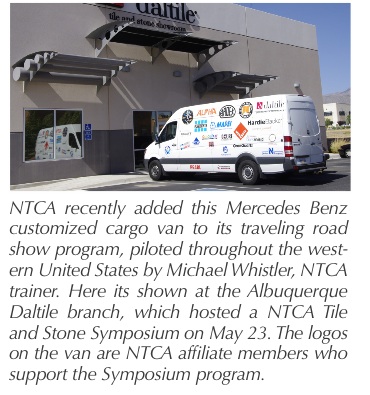 On May 23, Whistler engaged an attentive crowd of contractors and architects at Daltile in Albuquerque. TileLetter/TADA editor Lesley Goddin, who makes her home in Albuquerque, helped welcome guests and photographed the event, while her sweetie John Vandermey operated the video camera. (This is how Goddin and Vandermey spent their 11th anniversary!)
Angelica Saiz of Creative Touch Interiors called the Symposium "interesting and informative. My big takeaways from the presentation were the coverage example of thin-set with straight trowel lines vs. swirl. The pros of using medium bed thin-set mortar for large format tile made a lot of sense. I enjoyed the presenter – he engaged the audience and was very knowledgeable."
Architect  Ken Cook, AIA, CSI from The Hartman + Majewski Design Group added, "The substrate requirements will probably affect how we do specifications and details."
Plymouth, Pa.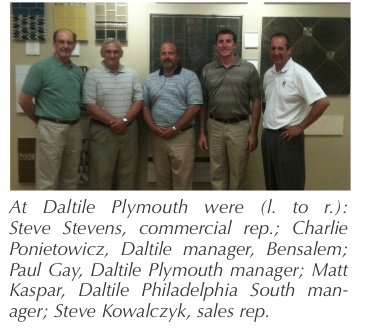 On May 29, 35 people joined Gerald Sloan at the Plymouth, Mass., Daltile for a highly interactive and enthusiastically-received Symposium. "People were thrilled to get information from the TCNA Handbook," Sloan said. Three memberships resulted from this event, spurred on by a huge interest in the NTCA Reference Manual and its highly-useful cause/cure/prevention format. "They were very impressed with information from the Reference Manual, and wanted to know more about it and get involved with NTCA," he said.
NTCA Tile & Stone Symposiums are an excellent way for installers, designers, specifiers or salespeople to stay abreast of rapidly-changing information and products for the tile and stone community. Each Symposium includes information on the many changes in the TCNA Handbook for Ceramic, Glass and Stone Tile Installation, such as installation of large format tile, glass tile and mosaics, membranes, backer boards, and shower receptors, pans and moisture management. Two Symposium programs educate architects and designers on the avoidance of specification pitfalls with tile, stone, and setting materials. All programs provide live demonstrations, with an open forum for discussion and networking, potentially solving installation challenges before they occur.
A schedule of future Symposiums is included in each issue of TileLetter, and the full schedule for the rest of 2012 is also posted on NTCA's website at www.tile-assn.com. Take advantage of this educational opportunity when you see an event listed in your city; it will be well worth the time and effort invested.