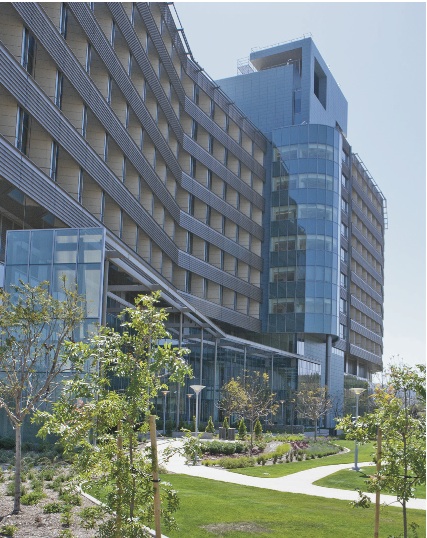 After a two-year long construction project, which began in April 2010, the future home of Palomar Medical Center West in Escondido, Calif., is nearly completed and scheduled to open this summer. Situated on a 52-acre site, the 11-story, state-of-the-art healthcare facility is designed to accommodate 360 patient beds, 12 operating rooms, a trauma center and a nursing tower with a diagnostic and treatment wing. The total budget for the construction project, the second largest building project now underway west of the Mississippi, is in excess of $956 million.
GREEN BUILDING TO PROMOTE BETTER HEALING
The new hospital is notable for its sustainable design. It is being built with recycled and renewable materials, and once completed, will use a minimal amount of water and electricity. Special features are designed to enhance a healing environment, including a 1.5-acre "living roof" and terrace of drought-resistant, native plants located above the surgery, cardiology and interventional radiology suites. The green roof is also designed to deflect light and heat to provide a natural cooling system for the facility. Even the waiting areas will have access to fresh air and two-story courtyards on each floor, to bring the calming power of nature to patients and families.
Following an extensive bidding process, Wirtz Quality Installations, Inc., of San Diego was awarded the contract to handle all internal and external tile and stone installation. "We partnered with Custom Building Products for the entire construction project. Not only did Custom provide support and information to guide us to which products should be included in the project, they also created complete installation systems and warranties," said John Wirtz, vice president of Wirtz.
"This was certainly a high-profile opportunity for us, and one of the largest and most intricate we've undertaken," said Amber Fox, president of Wirtz, "The project required more than 70 people working five days a week, plus many Saturdays. Logging more than 87,000 man-hours over 15 months took a well-coordinated team."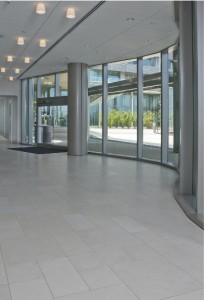 The overall project incorporated 20 different types of finish material including three types of glass tile, nine different porcelains, four types of stone tiles and over 165 tons of natural rock. The 45,000 square feet of lobby and corridor flooring used a porcelain tile with three different sizes that created an intricate pattern that only repeated every 153 square feet.
"The biggest part of the job were the 288 patient toilet/shower rooms that rival most of the finest resorts," explained Fox. "The rooms measure 8′ x 9′ with a radius wall, bench and shower floor without any curbs. The complete room was tiled, with the exception of the ceiling. We took on this job starting at the studs, created the very critical pitch to the drains and then waterproofed the floors using Custom Building Product's RedGard® Waterproofing and Crack Prevention Membrane. All floors had to pass a 24-hour flood test before we could continue. There were a total of five inspections that every patient bathroom had to pass before any tile could be installed."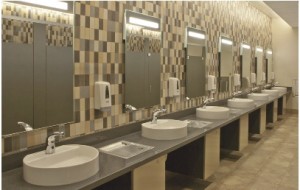 PERFORMANCE-DRIVEN INSTALLATION SYSTEMS AND SUPPORT
"Custom's products offer excellent quality and ease of application and we specify them for our projects. We've gotten to know and trust their brands," said Fox. "But it goes deeper than that. The people at Custom are always here for us — to support us throughout the installation process. Not only did they ensure the proper materials were specified, but at our request, they were there to observe us during the application of their products to ensure we were applying them correctly from beginning to end. It is a true partnership."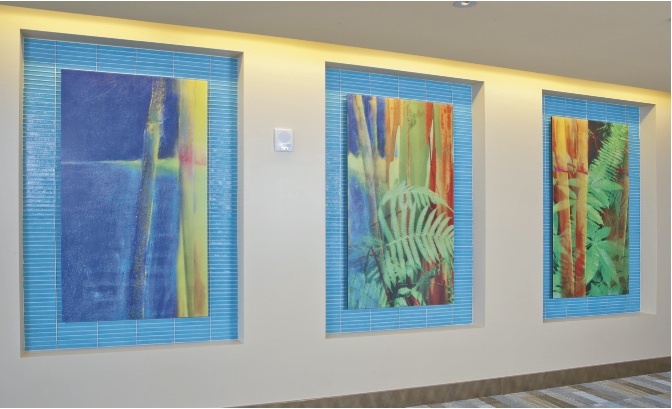 THE RIGHT COMBINATION OF PRODUCTS — AND THE BEST ALLOCATION OF RESOURCES
"Finding the right combination of products that factored in all the variables was essential," said Devin Dickey, Custom Building Products' territory manager. "We worked closely with Wirtz to determine the best and most efficient way to install the variety of different items that were required for the job.
"The scope of this project was massive. It's one of the largest privately-funded construction projects we've seen in a long time," continued Dickey. "And it has required the involvement of virtually every department at our company — from our research lab to product and technical support to marketing and sales. Custom has been integrally involved with every phase of this project, including product recommendations, technical specifications, LEED® Certification, and on-site job visits."
A broad range of Custom products were selected, including CEG-Lite™ 100% Solids Commercial Epoxy Grout, which was chosen for all patient rooms and the kitchen and cafeteria areas because of its 100% stain resistance and its recycled content, which contributes to LEED® Certification. Among other products used in the installation are RedGard® Waterproofing and Crack Prevention Membrane, Prism® SureColor® Grout, ProLite® Rapid Setting Large Format Tile & Stone Mortar and Commercial 100% Silicone Caulk.
AWARD WINNER
This project won Wirtz Quality Construction and Anshen+Allen Architects each a Commercial Tile Award in this year's Coverings Installation Design Awards competition, co-sponsored by TileLetter and TADA magazines. Awards were presented at the Coverings show in Orlando last April. Stay tuned to the July issue of TileLetter for further coverage of the project.
ABOUT CUSTOM BUILDING PRODUCTS
Custom® Building Products is widely recognized as a leading manufacturer of tile and stone installation systems for the North American market. The company's product brands, including WonderBoard® and EasyBoard® backerboards, Prism® SureColor® and Polyblend® grouts, a comprehensive line of lightweight mortars, TileLab® and Aqua Mix® maintenance products, and SuperiorBilt® tools are considered the most popular and most trusted by industry professionals. Custom Building Products continually raises the standards for the tile and stone industry through its commitment to innovation, performance and exceptional customer service.
Custom's website offers comprehensive resources including product and warranty information, installation specifications and technical support. For more information on the company's broad family of quality tile and stone installation products, please call 800-272-8786 or visit www.custombuildingproducts.com.