Tile Heritage Foundation celebrates 25th anniversary

Tile Heritage Foundation (THF) has been collecting and disseminating information about American tile history, both past and present, for the past twenty-five years. The dynamic,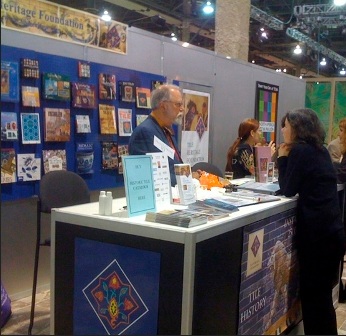 affirming evolution of THF's  preservation and conservation effort allows the tile industry to honor its own history: a key aspect of THF's mission. Providing a living, accessible archive into the future is its long-term goal. The Foundation honors and records the U.S. tile industry for posterity – its artistry, its craft and its significant installations.
In the mid-1990s, the Foundation established a presence on the web (www.tileheritage.org), offering a wealth of tile-related information and useful resources for its growing audience, including a Member Tile Gallery and an E-News link that complements the Foundation's printed materials .
The Foundation's mission of preserving the past history of tiles and tile making continues to be imperative, as well as integrating and documenting the ways of the present to keep the craft alive.
Generous member support makes the efforts of the Foundation possible, providing the impetus for it to continue its efforts and for other colleagues in the field to join in and become partners as well. This partnership enhances the industry by promoting the craft and disseminating information about tile work in the United States to a worldwide audience.
Of special note is the generous support that Coverings gives to Tile Heritage as a co-sponsor for its annual exposition, which provides a platform for the industry to connect with its historic roots. This venue, where Tile Heritage is hosted by TCNA, reinforces the strong partnership that has evolved with its members and tile industry sponsors, who together assist in nurturing the THF mission.
Now in its 25th year, Tile Heritage extends thanks to many people for its continued stability and growing resources. Serving the tile industry and the public with information and counsel regarding historical and preservation issues has been an enriching experience for founders, Sheila Menzies and Joseph Taylor, one that they look forward to continuing into the foreseeable future. For information visit www.tileheritage.org.
QEP expands social media presence
QEP Co., Inc. has just launched new social media outlets through Facebook, Twitter, Pinterest, YouTube and LinkedIn. They provide real-time information about the company, products, and employees to keep customers current with product launches. Other features such as the ability to share how-to pictures and videos are available through these outlets. To LIKE, follow and share QEP Co., Inc.'s brands pages pertinent to the tile and stone industry, visit the following:
Facebook QEP:http://www.facebook.com/pages/QEP/327010034003253, Twitter@QEPTools, LinkedIn QEP Co., Inc.: http://www.linkedin.com/company/qep.
Ardex adds tile and stone function to iPhone app
ARDEX Americas has added Tile & Stone Installation Products (TSIP) to its popular iPhone App, originally launched in May 2011. In addition to detailed product descriptions, this free app features a user-friendly calculator that can be used  to estimate the amount of ARDEX product required to cover a job area directly from an iPhone.  According to ARDEX Americas President and CEO Stephan M. Liozu, the app "is just one more way we show our customers we are serious about meeting the needs of those who use our products."
The ARDEX Americas iPhone app is five-star rated. The complete app, or TSIP update, is available via iTunes. More ARDEX tools and updates for mobile devices are planned including TSIP products for its free Android smart phone app. For more information, visit www.ardexamericas.com.