Editor's Letter – May 2012
May is the issue that hangs in the balance between the actual Coverings show in Orlando and the full coverage of the event in our June issue. I don't want to give everything away, but I do have to say that this Coverings was a fantastic show, with a sense of optimism, good turnout, and great reception to contractor programs sponsored by NTCA. There were demonstrations by Gerald Sloan and Michael Whistler, tag-teaming their way through their educational and lively presentations; and a strong NTCA presence in the conference sessions as well. New this year were the Contractor VIP tours – I got to tag along on one and it was informative and populated with a huge crowd of contractors.
Also this year was the evolution of the TileLetter Awards to the Coverings Installation Design Awards, sponsored by TileLetter and TADA. A healthy crowd turned out to recognize the contractor/designer teams that won accolades for their excellence. Next month we'll start rolling out the winners.
Speaking of TADA – Tile for Architects, Designers and Affiliates, NTCA's newest quarterly publication for the architect/design community – it received a rousing response, so much so that by end of day Thursday, there was nary an issue to be found in the magazine bins! It seems that the industry has been hungry for a publication of this type for quite some time. Issue two debuts at NEOCON in June.
The Installation Design Showcase was also a huge hit, with three dynamic contractor/designer teams that planned their vignettes and installed them during the course of the show. Stay tuned for coverage of that as well.
There are a few items from the show in this issue, such as TCNA's new Dynamic Coefficient of Friction standard and test method you can read about in our News section, and assistant executive director Jim Olson's letter of thanks in our NTCA News section that celebrates the success of the show and strikes a note of gratitude for the many NTCA member volunteers that helped make the show run smoothly.
Enjoy MAPEI's fascinating cover story featuring Mike Mandel's gorgeous murals, and a California labyrinth installation in our case study. David Allen Company's Chris Walker gives us a tour through new ANSI developments, and C.C. Owen is our contractor spotlight for this issue.
Got some thoughts about what you'd like to see in TileLetter? I'm always happy to hear from you at [email protected]
Best,
Lesley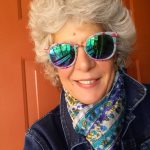 Editor for TileLetter, TileLetter Coverings, TREND and TECH publications.
Lesley Goddin has been writing and journaling since her first diary at age 11, and drawing and sketching since she could hold a pencil. Her penchant for observation led to her becoming a paid professional as a trade journalist, publicist and is editor for TileLetter. She has also written for Guideposts, Walls, Windows and Floors, Floor Covering Weekly, and Low Carb Energy.