FIVE-STAR contractor spotlight: McCammack Tile, Inc., Indianapolis, Ind.
This January installment kicks off our monthly spotlight of NTCA Five-Star Contractors, a highly qualified and prestigious group of tile and stone contractor NTCA members who meet stringent qualifications and continue to invest in excellence for their businesses and their clients.
McCammack Tile, Inc.,
Indianapolis, Ind.
Since: 1991
Specialty: Ceramic, stone and porcelain tile installation; light, medium and heavy-duty commercial projects.
Employees: 40
McCammack Tile is a merit shop with more than 40 in-house employees. They are highly committed to continuing education for their employees, which provide them with several levels of qualified tile installers within their organization. All of their lead installers are Certified Tile Installers by the CTEF. As a result, they have a very skilled work force that has flexibility to do small projects, as well as million-dollar high design projects. In 2011 McCammack
won the ABC Honor Award for CSO Architects Headquarters and the TileLetter Commercial Tile award for Community Hospital South. They have a remarkable safety record, with an EMR of .81 for 2010. They experienced zero OSHA recordables over the last eight years, and are confident that their commitments put forth in safety efforts will continue this trend.
Featured project: CSO Architects,
Keystone at the Crossing,
Indianapolis, Ind.
Established in 1961 CSO Architects completed the renovation of their new facility in February 2011 after six to eight
months of construction. The size of the existing building, the re-purposed Bally Total Fitness center, is 24,000 square feet and the project is valued at $1.8 million. McCammack Tile installed ceramic/porcelain throughout the facility, aiming for a "wow factor" in the two-story lobby with a tile wall that met CSO's criteria for subtlety, depth and richness.
Natural-looking materials for the main wall and lobby floor exuded a sense of warmth and welcome, and showed sensitivity to the environment. Floor Gres Walk tile contains 10-12% pre-consumer recycled content and is low-emitting, with the random veining and appealing texture of quartzite. McCammack created a 8´x8´ easily-installed module that was rotated 90 degrees along the wall for a random appearance. The large wall provides a "monolithic grounding" for the stairwell and vertical space in the center of the building.

McCammack was challenged with tight grout joints, uneven surfaces and articulated modularity. A matching "stick" mosaic was also installed in the reception area to tie the concept throughout the space.
Color Blox EC by Crossville graced the restroom floors, stall walls and showers, bringing durability, easy maintenance, beauty and a minimum of 20% pre-consumer recycled content to the mix. It also allowed a contrast in texture on the wet wall between the 12˝x24˝ Color Blox EC suede-like texture and very, clean, neutral tile elsewhere; the product provided 6˝x24˝ formats for safety in the shower area.
The flooring installation value was $44,000 labor-only, and took approximately 40 days to complete. Installation materials included those from Summitville, Custom Building Products,MAPEI and Schlüter.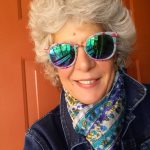 Editor for TileLetter, TileLetter Coverings, TREND and TECH publications.
Lesley Goddin has been writing and journaling since her first diary at age 11, and drawing and sketching since she could hold a pencil. Her penchant for observation led to her becoming a paid professional as a trade journalist, publicist and is editor for TileLetter. She has also written for Guideposts, Walls, Windows and Floors, Floor Covering Weekly, and Low Carb Energy.