FIVE-STAR Contractor spotlight: Kerber Tile, Marble and Stone, Inc.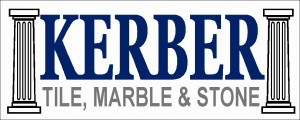 Kerber Tile, Marble and Stone, Inc.
Since: 1973
Specialty: Ceramic, stone and glass tile installation for medium-high end residential properties.
Employees: Currently six full time
Website: www.kerbertile.com
Facebook: www.facebook.com/kerbertile
Joe and Wendi Kerber started Kerber Tile, Marble and Stone, Inc. (KTMS) during the recession of 1973 in Shakopee, Minn. Since then, it has grown into a diverse company with an office, showroom, shop and warehouse. The company's work has ranged from simple grout repair jobs to large, upscale residential projects.KTMS partners closely with designers,
architects, remodelers, builders and homeowners on multiple aspects of their projects – from tile and stone design and layout work, to product recommendations, and final installations – striving to meet their clients' tile and stone needs while exceeding the highest level of industry quality standards. KTMS consults and work with clients primarily in the Twin Cities metro area, but have completed projects across the United States.
The company's efforts to ensure their clients receive a superior-quality installation have been recognized by the tile industry. All of KTMS' installers have been certified by the Ceramic Tile Education Foundation. Joe served as the past-president and chairman of the local tile association for 15 years and recently completed a term on the National Tile Contractors Association's (NTCA) board of directors. Currently, he is a member of both the NTCA's Technical, and Methods and Standards committees.
Featured Project: Residential
Steam Shower Bathroom
This typical steam shower room starts with 18"x18" porcelain as the main floor tile. All of the smaller tiles used are cut from these 18" tiles. The walls have 9"x18" tiles set in a brickjoint pattern. The sloped shower ceiling is made of 9"x9" tiles set on diagonal; the shower floor features 3"x3" tiles. The bullnose pieces are made in-house; pieces were cut for the deco insets and niches to make the specific layout. Glass mosaics and stone trim pieces are also incorporated into the deco design. The floors and shower bench feature electric in-floor heat with a thermal break in the tile at the glass door. The bathroom also has a carved stone sink with the faucet extending from the mirror. Refrigerator in the vanity is optional.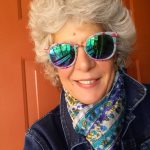 Editor for TileLetter, TileLetter Coverings, TREND and TECH publications.
Lesley Goddin has been writing and journaling since her first diary at age 11, and drawing and sketching since she could hold a pencil. Her penchant for observation led to her becoming a paid professional as a trade journalist, publicist and is editor for TileLetter. She has also written for Guideposts, Walls, Windows and Floors, Floor Covering Weekly, and Low Carb Energy.