Why do NTCA Five Star Contractors all have an active safety program in their company?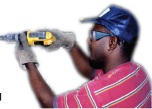 In many instances, the need for an active safety program is required to bid or secure work. Effective safety programs perform many positive functions. Here are some examples:
• Avoid costly interruptions to the project
• Reduce Insurance Costs
• Lower workers compensation costs
• Improve employee morale and trust
• Improve company performance
• Improve overall quality of workmanship
• Reduce job site accidents
• Reduce the need for training replacement workers
• Cultivate an environment that encourages quality company applicants
For these reasons, and many more, NTCA Five Star Contractors are making a commitment to improving workplace safety. Many of them have dedicated considerable resources to safety training, which is the cornerstone of identifying potential risks. If a tile installer or helper is educated on the means and methods to protect themselves and others from project site risks, along with the steps necessary to correct these risks, he/she is equipped to manage and eliminate unsafe work practices. This in turn reduces costly delays in the construction process.
One of the key components to reducing risk is to empower employees to take action if they witness unsafe practices or hazards on the job site. This is why it is important for the tile contracting company to properly train their supervisors and employees so they realize that not only do they have the right to take time to correct a safety-related shortcoming, they have an obligation to correct it. There is a fundamental difference between the ability, or right to correct, and the obligation to correct. NTCA Five Star Contractor employees understand that it is completely acceptable to shut down operations in order to address a safety concern.
As you educate your workforce, it is necessary to break the myth that correcting a safety-related problem is an expense. You must educate your workers so they understand that risk or hazard identification and correction offers significant savings and adds value to the project and the company bottom line. Most importantly, though, it is the right thing to do for the safety of each and every individual on site. Most safety-hazard corrections take almost no time at all to correct, while an unsafe practice can have a horribly negative and sometimes life-altering effect.
NTCA Five Star Contractors often require a project-weekly meeting, in order to keep every project team member informed about site-specific issues related to safety. These meetings offer a great opportunity to communicate concerns related to quality and production as well. Furthermore, they can serve as a forum for all individuals on site to express safety concerns. The discussion, and action taken immediately after, can have a positive impact on site for everyone.
NTCA Five Star Contractors are committed to an injury-free worksite, and to increasing safety throughout the tile industry. If each tile contracting company continues or begins to put forth this type of effort into employee education and raising expectations for all involved in the tile trade, our industry will continue to reduce installation-related injuries.