Editor's Letter
Cheers to a new year and another chance for us to get it right. ~Oprah Winfrey
Happy New Year! The start of every year is a time for hope, resolutions and new beginnings, and this year is no exception, especially at TileLetter.
We begin 2012 with a newly-designed, clean, crisp format for our monthly publication that includes many of your favorite features and some new ones. You'll find content that focuses on a project theme each month – such as bath and spa for January. In addition to our cover story, we'll feature a themed project from one of our contractor members that illustrates challenges experienced and creative, skilled solutions employed.
Our Ask the Experts section has evolved to become Tile Tip, which coordinates with our monthly theme for Tile-TV online (www.iwantmytiletv.com). "New Products" have morphed into Product Links, which are concise announcements of new products with a link to the company website for more information. Our Distributor Bulletin Board provides a place for distributor partners to announce news. We'll track our NTCA Tile & Stone Symposiums on a monthly basis now, with a short summary of recent workshops and some photos too! Be sure to visit the NTCA home page at www.tile-assn.com and click on the NTCA Tile Symposium link at bottom scrollbar to view the schedule and see when a free Symposium event is coming to your area.
This month we add a regular spotlight on our Five-Star Contractors, which will include a brief overview of the company and of a recent project. And of course, we are continuing our NTCA Family Album as a forum to showcase your families, hobbies, talents, skills and life outside of the tile industry. Please send images to me at [email protected]!
If you haven't visited www.tileletter.com lately, you'll find changes there too! While stories, products and news are still posted every month, the WordPress format now allows us to post information daily to keep current with what's happening in the industry.
Starting at Coverings, we will launch TADA, (Tile for Architects, Designers & Affiliates), a large-format, quarterly publication which is targeted to bring information about tile specification to the A&D community. NTCA publications and media are quickly becoming THE place to go for information about any aspect of our industry, from specification, to design, to installation to new products to news. We're happy to have you aboard as we venture out into this fresh, exciting New Year!
Lesley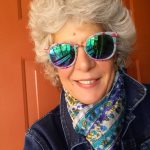 Editor for TileLetter, TileLetter Coverings, TREND and TECH publications.
Lesley Goddin has been writing and journaling since her first diary at age 11, and drawing and sketching since she could hold a pencil. Her penchant for observation led to her becoming a paid professional as a trade journalist, publicist and is editor for TileLetter. She has also written for Guideposts, Walls, Windows and Floors, Floor Covering Weekly, and Low Carb Energy.