Tile Decks, Patios and Balconies
By David M. Gobis, CTC CSI
Ceramic Tile Consultant
Let me preface this article by saying I spent most of my working life on my knees like many of you. In the second phase of my career at the Ceramic Tile Education Foundation (CTEF), constant exposure to the Tile Council of North America (TCNA) Performance Testing Lab played a huge role in developing a greater understanding or in some cases confirmation of all those curious little nuances about tile and setting materials that we think we know but are really just guessing about. Now that my knees don't work so well anymore (I wouldn't have changed a thing) – and armed with new learning over a ten-year span at CTEF – I have entered the twilight segment of my career; inspection and consulting.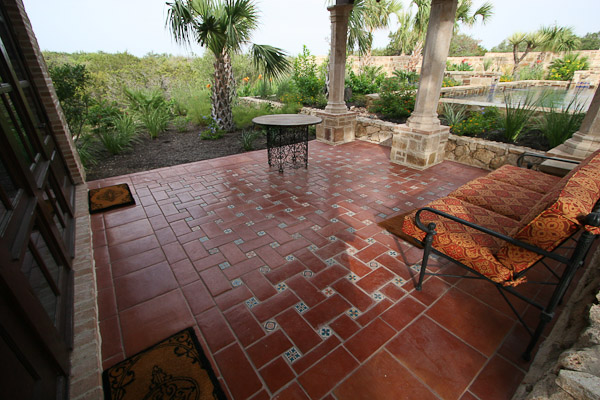 During the course of conversation with a bunch of contractors at an industry event, the question was asked, "What kind of failures do you see most often, relatively speaking?" The answer and subject of this article is decks, patios, and balconies. Some of my Southern friends say these applications will not survive a freeze/thaw environment, which I take exception to. My home is in Wisconsin where we have had frost warnings in the middle of June. Yet many exterior tile installations in commercial and public buildings around Wisconsin are still performing, some after over 100 years of service. I have installed slate, limestone, quarry tile, mosaics, and yes, porcelain and they are all doing just fine.
Beyond porcelain

Something I hear consistently is that only porcelain tile may be used on exterior applications. While in most instances porcelain is an excellent choice, many tiles have been used in exterior applications long before the popularity of porcelain tile. The industry-accepted recommendation for exterior environments is that tile with a porosity of greater than 5% should never be used in an exterior application, 3% or less is preferred.
This would include most quarry tile, many mosaic tiles and numerous other popular floor tiles besides porcelain. The more moisture and temperature cycle changes the tile is exposed to, the more appropriate one with lower porosity becomes; the less rainfall and temperature variation, the less the concern. While many stones can be used successfully in exterior applications you must be very careful to select the appropriate product for the geographic location. Stone products within their own generic family can perform quite differently depending on where quarried. A word to the wise: do not assume anything when it comes to stone applications. Tests for moisture absorption, freeze/thaw resistance, and slip resistance are available for stone as well as tile products.
Drainage is in the details

Incomplete waterproofing (that does not involve a system approach with flashing and pretreatment of cracks and corners) or lack of proper drainage and likely both is where things usually go bad from my experience. Exterior applications such as a slab on-grade patio do not automatically require waterproofing. The most important aspect of that type of installation is proper drainage. We know we should pre-pitch a shower-pan liner below the mortar bed for drainage, and the importance of proper slope for surface-applied waterproofing products. Decks and patios are no different. Whether the water is shed at the surface or below it, proper drainage is critical to avoiding damage from freeze/thaw, moisture expansion, and to limit efflorescence. The standard " per foot or 2% slope is really a minimum that should be considered for any exterior application exposed to the elements. When using exterior wire-reinforced mortar beds, a drainage mat will aid the reduction of moisture retention dramatically. If tile is to be installed over an occupied space or the structure must be protected for other reasons, waterproofing AND drainage may be necessary. Many setting-material manufacturers tend to be a little gun shy about their waterproofing products used in exterior applications. Claims history provides many good reasons for their aversion. Patios, decks, and balconies – particularly over living spaces – are not the place to experiment with your personally-engineered hybrid waterproofing system or strategy. My recommendation is to thoroughly research the system you are considering or the person specifying has selected. Make no assumptions! Unless it comes with written instructions for the specific application and a warranty, move on to another system.
Once selected, it should go without saying that ALL the instructions including flashing requirements need to be followed. Under most building codes, a flood test – while prudent – is not required for enclosed exterior decks such as balconies. A move is afoot, which I support, to require flood testing of horizontal-enclosed waterproof installations. There is a testing procedure under ASTM D-5957 that, while cumbersome in its current format, would work for tile installations.
Mortar considerations
The selection of setting materials and grout for exterior applications is not as simple as it may seem. It's obvious that the thin-set mortar should be rated for a wet application. However not so obvious is the definition of wet application. A vertically-tiled surface is a very different wet application compared to a horizontal surface when it comes to waterproofing and thinset. Submersion (floor application in an exterior wet area) is a very specific performance requirement. Not all polymer-modified thinsets are suitable for submersion. A few contain polymers that will re-emulsify and others only when exposed to moisture for prolonged periods, like a floor in the wet season. All polymer or latex modified thinsets should be protected from exposure to the elements until they reach initial cure. This includes not only rain but direct exposure to sunlight. Premature exposure to rain will impact the performance of any thin-set and possibly render a latex or polymer thinset useless. On the other hand, heat causes rapid cement hydration that will greatly reduce the bonding abilities of the thinset.
The last caution and number one cause of all installation failures is lack of movement accommodation which is another article all by itself. One thing is certain. People love tile decks, patios, and balconies. However, those types of projects require a very exacting installation process where no short cuts are acceptable without having a negative effect on the tile installation. Exterior applications of ceramic tile require experienced tile installers using quality products. Many otherwise-good installers and some materials are simply not up to the task. Proper product selection and application are going to require more information than you will receive from your typical sales representative. Study all system components thoroughly and choose wisely before you venture outdoors.

David M. Gobis, a third-generation tile setter, is an independent technical consultant. He has been in the trade for over 35 years and owned a successful contracting business for many years prior to his current position. Gobis is an author of over 150 trade-related articles and a frequent speaker at industry events. He is a member of the Construction Specification Institute, International Code Council, American Concrete Institute, National Tile Contractors Technical Committee, voting member of The American National Standards for Ceramic Tile Installation and Setting Materials (ANSI A108/118), American Society for Testing of Materials (ASTM) C-21 Ceramic Whitewares, and Tile Council of America Installation Handbook committees. You can reach him via email, [email protected]